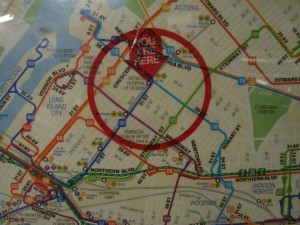 "You are here".
On the face of it that's such a simple phrase.  But give it a moment's thought and it breaks into thousands of possibilities.   Who is "you"?  And for you, what is "here"?  Is it your first time here?  Your six hundred and sixty-fifth?  Are you pleased to be here?  Every "here" has as many perspectives as people who pass it by.
********************************************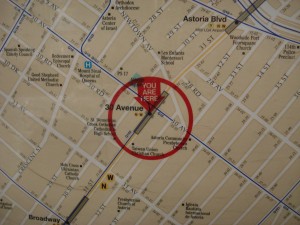 On the "You are here" local area map at the 30th Ave station I  was surprised to see 12 places of worship within the small segment that I photographed.  And the map shows not a great deal else.  Of course if the map tried to show everyone's destination its detail would be overwhelming. Perhaps the predominance of churches is because the MTA local area maps can only show non-commercial landmarks, so as not to promote some commercial venues over others.  In this part of Astoria those happen to be churches, of which there are a lot.  It has the disorientating effect of elevating the churches and erasing everything that lies in-between.