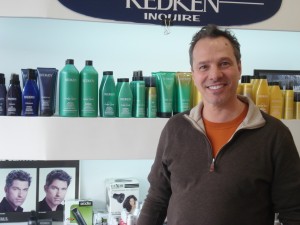 Frank Arcabascio owns Redken Saloon Salon, on 30th Ave between 36th and 37th Streets.  "Saloon" is in the name because the color bottles at the back of the salon are stacked like drinks behind a bar.
"I knew very young that I wanted to be a hairdresser," says Frank.  "I used to work at my cousins' barbershop over near Our Lady of Mount Carmel church.  It's called Joseph's Hair Place.  It's actually still there.  I used to sweep the floor and clean up to make tips, I used to shine shoes.  I knew early on the power of a good haircut.
That salon was a very blue collar barbershop.  You would see men walk in filthy dirty.  Many of them construction workers.  I'd wash their hair.  Then from the neck up my cousins would transform those guys.  Between trimming their moustache, their beards, their haircut.  And they'd walk out looking amazing.  The idea of transforming a person is so powerful.  They'd come in looking oh, terrible and they'd walk out looking like Clark Gable sometimes.
My cousins were very early in the field with the unisex thing, and always going to seminars.  And they kept progressing.  As a young kid I was like 'yeah, let's go to a different hair show in the city today, or visit other salons.'
I like working on long hair.  Now I can give people long hair.  In the past you could only cut hair.  That kind of transformed my career.  About 10 years ago I took courses in Great Lengths Hair Extensions.  We were one of the few businesses doing it.  I didn't realize it at the time, but we started getting outsourced by the salons that didn't want to loose their clients, so we developed accounts for doing hair extensions. We have over 18 accounts now.
You don't just work on hair you work on a person.  So it's fun to ask a person what are the highlights of their hair, what they like, their best haircuts, their worst haircuts, what's going to make them happy now.  And achieving those things.  I can see someone's head of hair and you immediately see what you can do on it.  But that's what I want to do.  Sometimes the person wants a fantasy idea that they don't have the hair for.  That's where you learn diplomacy and tact.
I'm in Manhattan now two days a week – four in Astoria and two in Manhattan.  If I were in Manhattan only I'd go nuts, and likewise if I were in Astoria alone.  I'd go nuts in Manhattan because they have a lot of money, they are very high-powered career people and are very demanding.  That's not the problem itself exactly, because I like clear parameters.  But on 30th Ave in Astoria you're considered an authority.  It's more of an even playing field.  When you're in the city you're more of a service person, unless you're in one of the top places.  I think we're all equal and we just choose to do different things.
My own kids aren't that interested in my business but my nieces do work here.   I was brought up in Jackson Heights but now live in Long Island, and that's where my kids grew up.  So even though I grew up near here, started a business here and now work here 4 days a week, they didn't grow up here.
Two of them are going to college.  They're probably going to go into the corporate world and jump into Manhattan.  But they want to live in Astoria.  I own this building and they're going to take the apartment upstairs.  So they don't want to work in Astoria, but they do want to live here.
The thing that comes first into my mind when I think of 30th Ave is the salon, of course.  But also the business community more broadly.  The people.  And the cafés. That's the new thing.  It's a fun place to be.  In '93 when I opened the business here there were no cafés.  There were a lot of delicatessens and dry cleaners.  You know, just that's the way New York was then.
Recently I was in Central Park, on the West Side by Strawberry Fields.  And we came out of the park and wanted to find a café to sit down and eat outside.  We didn't find any.  I started to realize.  I thought since when does 30th Avenue beat Columbus Avenue, or Amsterdam Avenue?  I want people to be proud of how many nice things we have and how down to earth it still is.
If you cannot afford to live in Manhattan you eventually find your way to Astoria.  That's the life of the neighborhood, it's the young people.  It's always been this way.   People think oh, all of a sudden people from Manhattan are starting to live in Astoria.  I've been working round here since 1971.  There were always people living here who couldn't afford Manhattan.  Actors, actresses, artists.  Now it's just become a little more commercial with the cafés.  A place where someone from Manhattan might come and visit and hang out.  Years ago it was only people living here, who went to work in the city.
There have been previous incarnations of the 30th Avenue Business Association but the current one started in 1999.  The way it started was we wanted to have holiday lighting in the streets.  Everybody was asked to chip in, but not everybody would contribute.  So we organized a street festival.  Everyone who sponsors the festival pays around $6-7000, and we use that money for the holiday lights.
I am currently president of the association, and was also its president from 2002-4.  At that time I called up Barnes & Nobel and asked them about putting one up here on 30th Avenue.  They said they can't.  The stores are too small.  They need 10,000 square feet.  Two thousand, which is the largest size along here – many of them are 400 or 500 square feet – most mom and pop stores and family businesses operate in that space range.  The franchises want a much larger space range.  So in many ways it's the size of the stores that will 'save' the street, if you will.
That's not to say you don't have to do the newest and latest.   Like we use Facebook and Twitter.  You have to embrace the new technology but it's still a family business embracing it.  I use a brand – Redken – to get the attention, but I'm still a family business.  Redken themselves would only be on Fifth Avenue, I brought Redken to 30th Ave.  A franchise has a corporate bureaucracy.  A family will bring in new ideas, trendy ideas and can change on a dime."