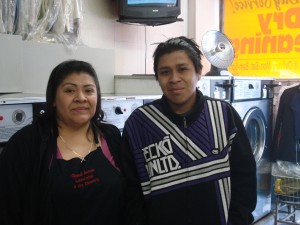 I spoke with Martha Heredia and her nephew Elvis Raymundo in Grand Avenue Laundromat.  Martha works there.  Elvis had dropped in to see his aunt on his way to play football nearby.
Martha:
I came here from Mexico in 1990. For 15 years I worked in clothing factories – six years in Manhattan and nine near Queensboro Plaza.  The factory owners were Korean but they spoke Spanish perfectly.  That's why I've never learned English.  [We had this conversation in Spanish].
Then the one for whom I had been working for nine years got tired of living and working here.  He sold the factory and went back to his country.  The work changed and I didn't like what they did so I left.
I had a baby girl and took a bit of time out.  Then I got work in a laundromat, where I was trained on the job.  It was a big laundromat, and good work, but I didn't like the way the managers were.  That was when I thought of asking in here for work, in Grand Avenue Laundromat.   I had moved to the neighborhood when I got married, after spending three years living in Manhattan.  I lived for a bit on Crescent Street but the apartment there was very small.  Then I found my current apartment on 35th Street that I love.  I've been there 18 years now.  So I had always come here to wash my clothes but till then it hadn't occurred to me to ask.  I got the job, and now I work five minutes from my home.
I have a sister who lives in Mexico but my other four siblings and my parents all live here.  I've only been back to Mexico twice in 21 years.  There's no need because practically all my family is here.
Elvis:
I live on 36th Street.  I've got two more years to go in high school and then plan to go to culinary college.  I'd like to be a chef.  Not necessarily have my own restaurant, it's hard to manage a restaurant.  To be a chef.  My favorite food to cook is Mexican and Italian.
This is a peaceful neighborhood.  There are no problems except sometimes when people from other parts come through, that's all.  Generally it's peaceful.
Martha:
There weren't so many businesses here 18 years ago.  The cafés and things are recent.  It's nice during the summer when the street is full of people.  And in the night time you don't have to worry about things.  We close at midnight and there are still businesses open, people in the street.  When my girl was small we would walk out here late at night (we slept late in the mornings, so she'd be up late), and she loved it.
Everyone knows her round here.  We know the business owners and the workers alike.  Some of the young people come here to live while they study and then they leave.  But most of the people in the neighborhood I have known for years and years.