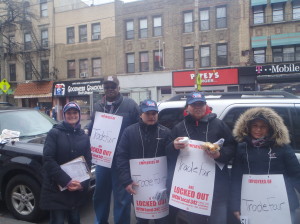 From last Wednesday, Trade Fair employees have been standing outside the supermarket on 30th Ave with placards and leaflets.  They are among 100 employees of the meat departments at the nine Trade Fair locations throughout Queens who are holding an "unfair labor practices" strike.
Among them is Eunice Izquierdo.  She has worked in the store's meat department for 23 years.  "When I started working here it was a relatively small business," she says (translated from Spanish).  "I saw him [the company's owner Farid Jaber] buy the fifth, the sixth, the seventh, the eighth, the ninth, all of those stores I saw him buy.  And also I've seen how the stores have grown in size, thanks to cheap labor."
In November the workers' contract came up for renewal.  Their union says that in the proposed new contract the management wanted to freeze wages for meat department employees, make everyone part time instead of full-time, reduce healthcare benefits and stop paying extra rates for  Sunday work.
"He wants to reduce our hours to 24 hours a week.  How are we going to support our families on that?"  says Eunice, who has three children – two in college and one in high school.  "There have been three cuts.  First we worked 48 hours a week, then 37.  At the moment we have been working 34.  Now he wants to cut it to 24 and change Sunday working to regular pay."
She adds: "I like the work here.  We have done our work with a lot of love.  That is what hurts.  Because we have worked here with our hearts.  We have worked harder than we have been paid for.  It's not to say it's a bad business.  It's a good business, well managed.  But the owner – that's to say the owner-owner of all the stores – says that he wants everyone to be part time.  Who lives off part time?"
The workers are accompanied by representatives of the United Food and Commercial Workers union, Local 342.  According to the union, when rounds of negotiations over the new contract were not making any progress, the workers began to leaflet the customers on their off-the-clock-time.  The management reacted to this by harassing them and putting up signs in the department that part-time meat workers were wanted, the union says.
Union representative David Rodriquez said: "The employees are just speaking out for their rights.  They went to the community, spoke to the community, and he [Jaber] didn't appreciate that, he would have preferred that they stay quiet.  So he put up these signs saying that they needed help, in the meat department, when they don't."
When the strike began on Wednesday, workers offered to go back to work in the afternoon to continue bargaining.  But management did not let them back, saying that they had been replaced with new staff, according to the union.
Beatriz Gomez is another of the workers on strike.  She has worked in the meat department for 13 years.  "What we are asking is to stay with what we had before," she says.  "I have a lot of faith that we are going to be able to go back, that we will get our jobs back.  I am prepared to be here as long as it takes."
Trade Fair headquarters declined to comment for this post.  They referred to the banner posted on the outside walls of their supermarkets.  It reads: "…We are in negotiation with the union and told them that we need to keep our costs competitive with other non-union stores in the neighborhood so we can provide you with top quality meat at fair, competitive prices.  The disruptions to our business is their answer to us.  Trade Fair will continue to do what is necessary to keep our costs competitive so that our prices remain competitive." (full wording on the image below).
*******************************
See also: "Trade Fair Employees Strike," Maria Fitzsimons, Queens Chronicle, 14 Mar 2013
An interview on this website in November 2011 with two managers at the 30th Ave location, Mustafa Eid and Sabah Guessar.  When asked if he would like to comment on the meat workers' action, Mustafa said that for now only the management at Trade Fair headquarters is able to do that.