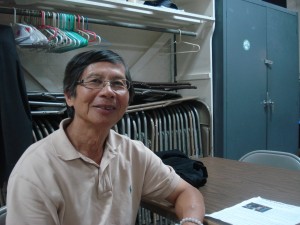 On 31st Street just South of the 30th Ave subway stop and opposite EuroMarket is the Taiwan Union Christian Church.  I spoke with one of the church's elders, Ching-Tse Lee: it happened to be on Sunday September 11th.   A service had recently ended and the church basement was bustling with activity, as members of the congregation mingled with each other and sought advice from the pastor.
Ching-Tse came to the USA from Taiwan in 1964.  He studied in Ohio before coming to live in New York.  He worked as a psychology professor at Brooklyn College and retired three years ago, which has enabled him to become more active in the church as an elder.
The church originated in 1968 when a group of Taiwanese students in New York formed a bible study group.  They then established a church which met at a Presbyterian Church in Manhattan.  In 1982 they moved the church to the Astoria location, which was formerly the Second Reformed Church in Astoria.  Two years later they joined the Reformed Church of America.
Ching-Tse says that the congregation today includes Taiwanese students who are in the US to study for their MD, PhD, or other forms of higher education; some of them stay in dormitories in the modern building next to the church.  Others are Taiwanese immigrants to the US like himself.  They come to the church in Astoria from all over the Tri-State area: some from Staten Island, Westchester, Long Island and elsewhere.
"We come here to worship and also we try to provide a home for our children," he says.  "Once they are in their individual community they don't really have the kind of Taiwanese home base to grow up with.  Many of them have adapted to the local environment.  For some of them, the local environment may not be very suitable for them as Taiwanese."
The church conducts services in Taiwanese, and in Mandarin for local Chinese residents.  They have an English mission, also in the modern building next to the old church, for Taiwanese-Americans born or raised in the US.
Beyond services and bible study the church is active in many ways.  The week after I was there they were holding a photography exhibition.  "It's very special," says Ching-Tse, "because all the photographers are women.  We thought that a female has her viewpoint of the world…they are much more sensitive about their environment.   So we encourage them to put up shows.  This time in the exhibition there will be images of flowers, scenery, and different places, like Disney World."
The church members are also engaged in issues around Taiwan's future and its efforts to maintain autonomy from China.  They were preparing for a forthcoming "Keep Taiwan Free" rally, calling for the UN to accept Taiwan as a member.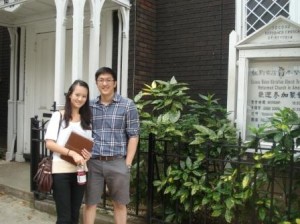 Outside the church, I met Mario Yang and his girlfriend Christina Chang who had attended the service.  Mario is a financial analyst at American Express, and lives in Manhattan.  His parents brought him to the US from Taiwan when he was eight years old: they lived in North Carolina and then Mario came to New York for college.
"My parents are firm believers in public education, but didn't feel like the system in Taiwan was good at the time.  It's fantastic now, but back when I was younger they felt it was a better choice to be in the States.  I think I got a great public education here!  I would hope I did."
Christina is currently a Masters student at Columbia University.  She is a flutist and often plays at the church services.
The couple comes to the church in Astoria as often as they can.  "We have tons of friends who come here, it's a community," says Mario.  "There's a wide variety of people at the church.  There are people in arts, people in finance, people in all sorts of careers.  They're really supportive regardless of what you do."