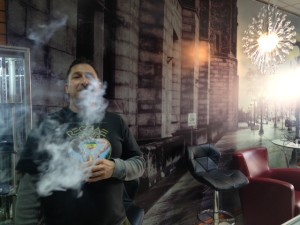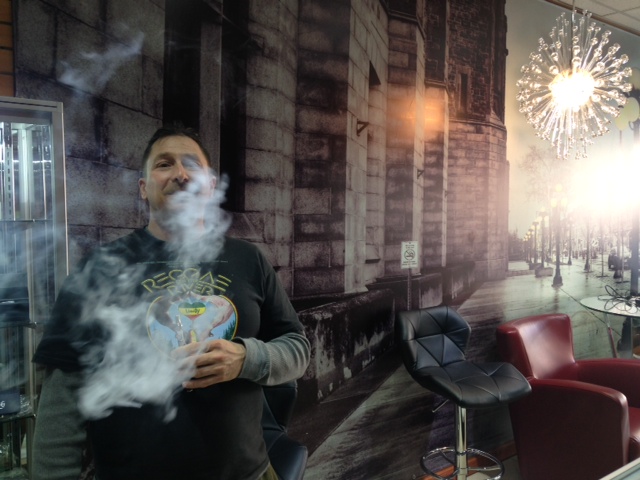 A new arrival on 30th Avenue is "Vapor Generation" at 36-20B. I quit smoking about five years ago when I became pregnant with my first child: while I've noticed vape stores popping up around the neighborhood and people standing outside bars with their vape pens, vaping has been a bit of a mystery to me. I spoke with Vapor Generation's Brian King to find out more.
Brian moved to Astoria from California two and a half months ago. He started working with Vapor Generation when it opened in late February.
'We're trying to get people to quit in a nice healthier way, giving people many options," he says. "We're talking ingest or otherwise, with varying rates of nicotine from zero all the way up to eighteen milligrams for the heavy smokers. That way they don't go through withdrawals if they are trying to kick."
The store has a long counter where customers can test the products, and glass cabinets where they are on display: the battery-powered vaping devices, and the liquids in various flavors which go inside them. Along one wall is a black and white image of a lamp-lit street in Paris.
"There's a heating element inside that atomizes the liquid," says Brian. "Instead of turning it into a smoke it's actually a vapor. You are exhaling, and it looks like smoke, but it's not."
He adds: "It tastes good, and it smells good too. People's boyfriends and girlfriends are happy when they are not smoking because they don't have to kiss an ashtray anymore."
Brian, who formerly worked in construction, started using vapors in California.  "I had to do something with my mouth," he says. "I was chewing on pens and pencils, toothpicks, and eating lollipops…and then I found vaping."
Until he got into the business, however, he did not realize how many options were available.  Vapor Generation sources its liquids from the US and Europe – avoiding other overseas sources given the risks of them containing harmful ingredients such as pesticides.  The liquids they sell contain pharmaceutical-grade or food-grade propylene glycol and glycerin.
Vaping is picking up quicker in New York than in California, Brian says, "because of Prop 215, which has made other things legal to smoke in California." (Prop 215 is the legislation on medical marijuana).
While many of Vapor Generation's customers are young, older long-time smokers are also venturing in. Brian sees it as his role to educate them. "A lot of the older folks that come in are trying to quit smoking – they have a lot of questions.  It's good to be able to answer their questions for them and let them know what's going on."
On Astoria, Brian says that it "has friendly people.  It's a little bit busier than I am used to.  But when you get somebody to stop and talk to you they are actually willing to give you a bit more time than they would in San Francisco.  If you're lost looking for somewhere, people will actually get on their phone and ask other people.  They will try and help you get what you need."