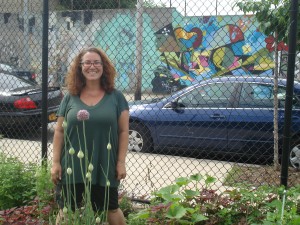 At the far Western end of 30th Avenue, close to the East River and the Welling Court Mural Project, is Two Coves Community Garden.  A mesh fence encloses a triangular patch of land split up into 130 gardening plots.
Early last Sunday morning the garden was already bustling with activity.  I spoke with Two Coves member Lynne Serpe.  While we spoke, she was weeding and digging a new plot that had become available, getting it ready for its gardener.
"Two Coves was once a vacant lot," she says, "with all the problems that come with that.  There was an idea to turn it into a park but then the money dried up.  Local people decided that well, if we turn it into a community garden the money won't be a problem, because we maintain it."
That was in 2006.  Lynne got involved in January 2008 when there were about 12 people gardening there.  By the end of that year there were 80.  Now, around 250 people use the garden.  Most of the plots have more than one gardener, and there is also a community plot for people who are on the waiting list or who don't have enough time to look after a patch of their own.
A division of the Parks Department called Green Thumb licenses Two Coves.  The gardeners do not own their plots: they are encouraged to pay a membership fee of $20 per season, and expected to maintain their plot and do a couple of hours volunteer work each month.
"It's an incredibly diverse garden," says Lynne.  "In 2009, the last time we counted, there were 40 languages spoken here.  And if you walk around the garden – if you know something about different cultures and food – you can kind of guess which plot might belong to, for example, Bangladeshi gardeners, or Caribbean gardeners who may be growing callaloo, choy, things like that."  The garden gets a lot of sun, which means a lot of different things can grow.
The gardeners can come and go whenever they please.   Some garden at unpredictable times; while I was there, two air stewards who Lynne rarely sees were gardening their plot.   Lynne said for that reason the parties and barbecues that Two Coves throws from time to time are an important way to bring all the gardeners together.
When the garden first started some of the plots were big.  But as more and more people have wanted to get involved they introduced a rule to standardize the plots at around 100ft each.  That may seem small, but "you can pack a lot in," says Lynne.
Her plot proves the point.  This year, she has blueberries, strawberries, basil, thyme, oregano, lavender, rosemary, stevia, different types of lettuce (mizuna, green, red), carrots, eggplants, tomatoes, squash, beans and marigolds. [cont. below]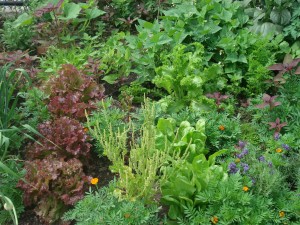 Lynne says that initially she came to gardening and green-living to save resources.  She was brought up in Long Island (her parents had grown up in Brooklyn before moving there), in a family with not a lot of money.  "Then I found that I really enjoyed gardening and getting my hands dirty.  I like eating the food that I grow.  And here in this garden in particular, I enjoy the community I've met, the friends that I've made."
Lynne moved to Astoria in 1994 after graduating from college.  First she lived at 37th Street and 31st Avenue.  She works as an independent contractor on political campaigns, which sometimes takes her to different parts of the country or overseas for periods of time.  But she always comes back to Astoria, and always in the 31st, 30th Ave area.
She works in all kinds of ways to help make Astoria greener.  She co-founded the organization Triple R Events: Reduce, Reuse, Recycle that organizes environmental activities throughout the neighborhood.  And in 2009 she stood as a Green Party candidate for the NY City Council.
At the moment, Lynne is working with Queens Library, helping to spread gardening and living green with a "Greening Libraries" initiative.  As just one part of the project she and her colleagues have created three gardens at nearby libraries.
The Astoria Library on Astoria Boulevard and 14th has a Shakespeare garden, in which all of the plants appear somewhere in a work of Shakespeare.  The courtyard at the Steinway Library by Ditmars does not get a lot of sun, so  they have planted  a shade garden with root vegetables like carrots, turnips, beets and radishes.  And at the library in Woodside, which doesn't have its own courtyard, they have partnered with the Parks Department to use a triangle across the street for a butterfly garden, full of  colorful flowers.
About 150 people are currently on the waiting list for the Two Coves Community Garden.  But the list does move.  Each year as people either move out of town or become too busy, plots become available.  Lynne is on the plot allocation committee which this year assigned plots to 30 new people.
"To think that this was an abandoned lot.  And now it's this beautiful oasis in the middle of Astoria," says Lynne.  A lot of children come to the garden with their families.  "It's fun watching them play here, learn how to water, and pick their first fresh strawberry."