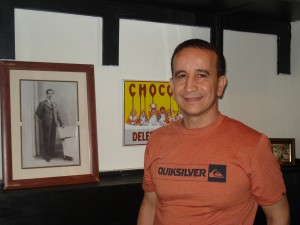 Halim is the owner of Harissa café on 30th Ave between 34th and 35th Streets.   He set Harissa up nine months ago.  In it, he has invested experience gained from his life so far – in particular lessons learned from the people around him.
As a boy in Algiers he used to help out in his family's kitchenware store.  His grandfather started the store, then it was taken over by his father and then his brother.
One summer, the rest of Halim's family went for a month to their place in the countryside, leaving the teenage Halim and a cousin in the city.  Halim had the keys to the store.  They decided to open it up.  By the time his father returned the store was almost empty. "We knew how to sell, but not how to buy," says Halim.  "My father said 'what happened here?!' but at the same time he was kind of happy."
Halim says that customers' hard-bargaining in Algiers meant that he never had a difficult time working with people in  New York City.  "I had had tougher experience before.  That's how you learn."
Halim moved to New York when he was 24.  First he lived in Corona, where the one person he knew in the city lived.  He quickly found work as a bus boy at Periyali Greek restaurant in Manhattan.  He moved into a studio in Astoria to be closer to work – it was winter and the commute from Corona felt cold and long.
That was 1989, and Halim has lived in Astoria ever since.  "I love it here," he says.  You don't feel like an immigrant.  Because everybody is."
He soon started working as a waiter at another restaurant owned by the same owner, Il Cantinori on 10th Street between Broadway and University Place, and stayed there for ten years.  One of the main lessons he took from those years is that "it is all about serving high quality food, and being consistent with it.  I remember a guy saying that he had had the same pasta dish 15 years previously and that it still tasted the same."
He also observed the art of talking with customers.  He would stand impatiently waiting to take an order, behind the owner who was busy recounting stories to the diners.  He is amused to find himself doing the same in Harissa – getting into long conversations with clientele.
"You feel who wants to talk and who doesn't.  You have a sense of 'oh this person is tired, this one is working on the computer', so I'll leave them in peace…But I can tell when they want to take a break and might want to talk."
After the ten years at Il Cantinori Halim felt it was time for a change.  He went into a partnership to set up a restaurant in the city but the plans fell through.  "So I decided to just give up the restaurant business," he says.  He became a limo driver.
He enjoyed the reliable schedule and the free time that he had in-between drives.  A book he read twice during that period, and that he relates to his own life, was Paulo Coelho's The Alchemist.
His most regular clients were an actor and actress couple.  "I was not so much their driver, more like a friend.  They'd invite me into the places they went, like to join them for a drink.  I liked that connection.  It reminded me that it doesn't matter who you are, we're all people.
"We always had something to talk about and I learned a lot from them.  But at the same time every time I would drive them back to the restaurant to eat it felt strange waiting outside in the car."
The restaurant business hadn't let go its hold of him.  At one point he was on the verge of opening a café on Vernon Boulevard, with a longtime friend.  The plan was for the café to double-up as an antiques store, in which customers could buy the furniture they ate at.
At the very last minute, the project and the friendship fell through.  "It would take three years to tell the full story!" says Halim, "But when you loose everything, [he had put money into the venture], it's a shock."
For a while, he drove taxi cabs.  "That was more interesting because you meet the real New York.  The inside.  I talked with my passengers, and over time I forgot what happened."
Then an opportunity came up to open up a restaurant on 30th Ave, and Halim took it.  Third time lucky.  Before it opened, he and the chef were sitting on the floor in the empty store space having some lunch – Halim had a can of Harissa, the spicy North African sauce, in his hand and that is now the café got its name.
Harissa is the kind of place where people like to linger.  The starting point is the coffee, served from a counter at the front.  But people often go on to order food – felafel salad, lamb tagine, grilled chicken sandwiches – most of it made from ingredients bought that day from the shops nearby.
"When people go someplace to eat they want to take a break," says Halim.  "And often they want to talk.  Especially in New York…everything is individual things, people do things by themselves.   Even at the supermarket you don't have to talk to somebody, you can cash up by yourself.  A café is a break from that."
Halim says that the clientele in Harissa is mainly young, and arty – people who recognize elements of East Village and Williamsburg cafés there.   The décor is dark wood and pale walls hung with mirrors and unobtrusive pictures.  On one, is a photograph of his grandfather who set up the store in Algiers.  Sometimes, Halim swaps items from one side of the room to another – a technique that his brother used in their store to give regular customers a sense of surprise and change.
Halim spends up to 18 hours a day working at Harissa.   "It's different, working for people, you want to go home at the end of a day.  But for me, this is home."