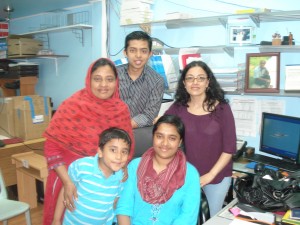 The Ahmad family owns TaxIntel (formerly Abacus One) on 30th Ave between 33rd and 34th Streets.  When you go into the store you are likely to find at least one member of the family: there's Shimin the mother, Nadia (21), Nadeem (18) and Nafees (7).
Until last year, there would always be Qazi, who founded the business.  He died in 2010 from cancer, and his absence is strongly felt.  In some way his presence continues to be felt too, through the influence he had on family members and customers.  Shimin says, "Everything we do is inspired by things that he taught us.  And every moment we miss him."
I only met Qazi once, when he did my 2009 tax return.  Yet I remember the encounter well – his calmness, friendly smile, and conversation.  Shimin says that he had that effect on people: even the shortest encounter left an impression.
Qazi and Shimin, both from Sylhet in North Eastern Bangladesh, came to New York in the 1980s.  They first lived in Manhattan and moved to Astoria in 1995.  Qazi worked as an accountant and cost controller.  Soon after the September 2001 attacks, the firm he was working for closed.  He spent some time looking for a new job but didn't find a good one – and decided it was time to do his own thing.
He had already been helping people to prepare their tax returns from his home, so that was the logical focus for the business.  He called the business Abacus One for the accounting connection and also, he mentioned when we met, because it meant the name appeared at the top of a telephone directory.  Later on Qazi renamed the business TaxIntel.  "He would always think ahead to what we needed to be doing next," says Shimin.  "He would research a lot before making a decision."
When he first started the business, Qazi rented space in Printing Plus further up 30th Ave, then moved into his own space at the current location.   Word of mouth meant he quickly built up a customer-base.  About half of the clientele are Bengali-speaking, the other half reflect the mix that is Astoria.
One day, a student asked him if she could borrow his computer for a while, and he agreed.  Then she suggested he make one computer available for customers to use.   "After that we had two, then three, then five computers," says Shimin.   The store now doubles up as a service center providing internet access, printing, copying and faxing.
"You never know what people are going to need until people walk through the door," says Nadia.  "We've done wedding reception invitations, business cards, resumes…"  Sometimes people come with impossible requests, like a customer who wanted color added to a printed document when the original was only in black and white.
Anila Karki is a long-time family friend, originally from Nepal, who works with the internet/printing side of the business.  She says, "helping customers and having small talk with them is what I enjoy most."  Often customers think that she's Spanish-speaking and start talking away in Spanish.
The Ahmads have known a lot of the nearby store owners for a long time.  "When we need a man to help us with something," says Anila, we go running round to the fabric stop next door."
Nadia adds: "Our customers and neighbors definitely take care of us more than we could ever hope for.  We've been lucky to have gotten such support from everyone around 30th Avenue, especially dealing with this past year."
Nadia is studying English at New York University (and she writes a blog in her spare time).  Nadeem, who wasn't around when I did this interview, is going to be studying mechanical engineering at CCNY starting this fall.  They both help out in the store, especially during tax season.  During that time, Nadia says, "I run out of class and then I run onto the train, and then run off the train to come and help here.
"When I was a kid I used to think 'oh, accounting is boring'.  And well, it is a little bit boring!  But when I started helping Dad and Mom with it, you realize that it's a lot more about people too.  It's not just the numbers.  You never know when someone walks in the door what their story is.  You get a new story with every customer."
Like Nadia does, Qazi enjoyed literature and writing.  "It's a side of my Dad that we take for granted and forget that others may not be aware of," she says.  He read and wrote a lot.  When he was younger, he wrote poems and short stories in Bengali.  Then after he came to New York he wrote articles for local Bengali newspapers, as well as poems for small publications.
Nadia says: "I always remember, especially when I was around three or four, seeing him lie on his stomach on the bed after he came home from work, with a legal yellow draft pad and paper, working on something.  Years went by though, and he had less and less time for writing, but continued to spend time on his other love – taking care of his family.
"And of course, on his work and taking care of his customers!  He worked so hard with my Mom to come up to this level with the business.  We've all been able to enjoy a good life because of his vision and determination."