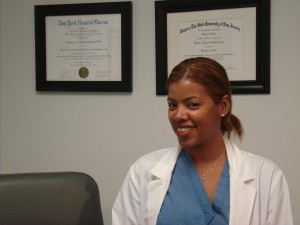 Dr Yokaira Espiritu-Santo is a podiatrist at Astoria Advanced Footcare on 30th Ave.  (Her patients call her Dr Santo for short).  While I interviewed her, she was skillfully treating my feet.
She came to the US with her family when she was two, from the Dominican Republic, and was brought up in New Jersey.  She studied medicine at Rutgers University.  Then she did her four years podiatry training in Manhattan and her residency in New York Hospital Queens, in Flushing.
Dr Santo says that she does not know the origin of the name "Yokaira."  "A lot of the patients ask me," she says. "I suppose I should look it up, but really I don't want to know.  It's my name, it's me."
She decided to become a podiatrist because when she was young she had chronic in-growing toenails.  After many fruitless trips to her eighty-year-old pediatrician she finally saw a podiatrist, who solved the problem.
"Cured would be the wrong word," she says, "because there's never an actual cure for anything, you bring things under control.  But he stopped the in-growing toenails recurring.
"I was so grateful and happy that I could wear my sandals and my open toe shoes, and paint my nails.  I had wanted to be a pediatrician.  But that changed my mind and I became a podiatrist."
Working on 30th Ave
Dr Hans, who heads up the practice, trained Dr Santo during her residency and invited her to join him when she finished training.  They split their week between offices in Manhattan, Sunnyside, and Astoria.
"In the Manhattan office," says Dr Santo, "everyone wants the quick fix.  They have the mentality of 'fix me as soon as possible, I'm on my lunch-break, or I just got out of work and want to get home.'"  She says people are in less of a hurry in the Astoria office. On 30th Avenue, they treat more elderly people, and patients make their appointments for days that they have off work.
"Everyone that comes through this office seems to be happy," she says.  "Everybody has a different story.  Everybody comes from different walks of life.   I see one patient, who then brings their mom or their father or their girlfriend.  It turns into a family event here at times.  I might treat a whole family in one day.
"I appreciate the fact that they trust me and that they refer other people to come here.  That's pretty cool."
Talking to the patients is one aspect of her work that Dr Santo really enjoys.  She also likes the fact that they leave the office feeling better than when they came in.
She and Dr Hans treat a whole range of foot problems: heel pain, occasional surgeries on bunions or hammer toes, and preventative care for diabetic patients, so that they won't have to lose their feet in the future due to poor circulation or infections.
They treat ankle sprains and fractures, often caused by running.   And if a patient is wearing shoes that aggravate their problem, they let them know.  "For runners we usually recommend New Balance sneakers because they come a little bit wider and they have better arch support."
Tough schedule
Dr Santo lives with her partner in New Jersey, having moved there after nine years living in Manhattan and then Queens.  She spends two to three hours a day commuting through traffic.  "That's killing me!" she says.  But despite that she still would not want to move back into the city.
Once at the office she spends 12 hours there and treats between 20-30 patients.  The hardest part is the paperwork.  For each patient she sees, there are 10-15 minutes of paperwork, up to 30 minutes if the patient is new.   She takes a lot of the paperwork to finish at home.
Dr Santo takes a short lunch break but usually spends it in the office and has food delivered from one of the 30th Ave. restaurants.
Once a month, she and a girlfriend who works in the hospital meet on a Monday night for supper at the Indian restaurant, Ghandi.   "I love that place.  Even if it means eating late – and sometimes waiting around on my own for her if she finishes after me – I make it happen, at least once a month."
What's next
"I definitely want three kids, and I have to start soon!" says Dr Santo.  "I want two girls and a boy.  I already have their names and everything."
Career-wise, Dr Santo says that in the future she would like to have her own practice: "It would have state-of-the-art everything.  And lots of rooms.  I would work there three times a week, and do surgery one day a week.  I might join a residency program where I could train other people to become podiatrists, do teaching lectures here and there.
"Perhaps some trauma work too.  But the problem with trauma is that you always have to be on call with your pager next to your hip.  So I'd probably just do trauma call once or twice a month.  That's my ideal.  Oh and I'd dictate all of my charts instead of handwriting them. (laughs)."
How does Dr Santo plan to make this happen? "It will take some time, and a lot of energy."