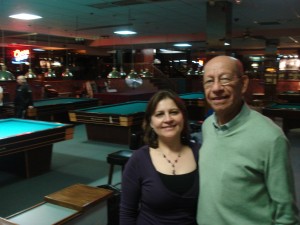 Carlos Sanclementi could not talk long for our interview because work was calling; he had to go and play billiards with one of his customers.
Carlos has owned Astoria Billiards Club since 2004.  It's a cavernous basement space on 30th Ave between 35th and 36th Street, which many years ago used to be a bowling alley.  Customers can play billiards, pool, snooker, table hockey, backgammon and chess.
Carlos bought it from one of his wife's relatives.  The relative had grown tired of managing the billiards hall.  And Carlos, who had been working for 25 years with an import-export company, was ready for a change.
"What I really enjoy about my work here," he says, "is that no-one's my boss.  I make the decisions.  And of course my wife as well, because we run the business together.  It's much better than how it was for 25 years – even though I'd become a department supervisor – hearing 'Carlos do this, Carlos do that' all the time."
Carlos is from Cali in Colombia and moved to the US in 1966.  He rarely goes to Colombia now because he has few relatives still there.  "The last time I went was eight years ago.  But I do want to go before too long.  I have various houses and properties there.  I want to check that the agency that looks after them is doing everything it says it's doing."
Carlos and his wife Marta commute to the billiards hall from their home in Flushing.  They do the first shift, from 1pm till around 10.30pm.  She works at the counter where people pay for their games and buy food and drinks.  He does the paperwork in the office, as well as playing a game of billiards with anyone who needs a playing partner.  "If they turned up and didn't have anyone to play a game with, they wouldn't come back!"
Usually one of Marta's sisters and a friend of theirs do the night shift – Carlos says they always have a man and a women on duty at one time.  "We stay open until whenever the last players leave.  If there are five tables playing at two in the morning, you can't go round and tell them to wrap up and go."
The customers are mainly American, and many Mexicans.  "Some of the regulars," says Carlos, "come here every day to play."  And on that note off he went to play the game with his waiting customer.