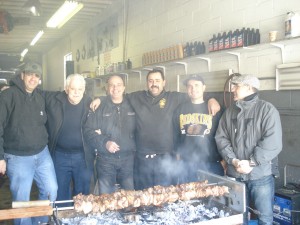 This morning I found Yiorgos (George) Haridimou in his auto repair shop barbecuing two huge skewers of pork with friends and customers.
George is from Cyprus.  But even though it was Greece's independence day yesterday, 25 March, he said the barbeque wasn't in honor of that.  "We just have a barbeque once in a while.  Maybe we'll have another one tomorrow, to mark independence day!"
George is an avid supporter of the Athens-based AEK soccer team.  He's a president of the AEK Fan Club of USA and was proudly wearing one of its sweatshirts when I spoke with him (he's third from the right in the photo).
He moved with his family from Cyprus to New York in 1982, growing up first for a few years in Yonkers before moving to Astoria.  He wanted to be a mechanic since he was a boy.  He started the business 25 years ago, and bought his building on 30th Ave near 12th Street in 1998.
"I set up the business here because the zoning laws allowed you to start up an auto-repair shop," George says.  "It was more industrial.  Now it's starting to become more residential.
"That's a good thing.  The neighborhood is much better than it was before, even than 10 years ago. There used to be a lot of crime.  It wasn't the nicest part of town.  21st Street was like the boundary, with the bad area on this side of it.
"Some of the old industries have gone.  There used to be a lot of marble places that you don't see around any more.  And next door, there used to be an electrician's.  Now it's an apartment building.  But I'm going to stay here, this is my own building.  I'm not going away."