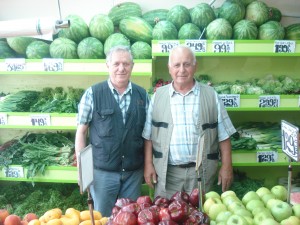 Vasilios Ioannou: "This was the first fruit shop along 30th Ave."
Bobby:
Bobby Kartsagoulis helped to set up Eliniki Agora Fruit and Vegetable (otherwise known as the 30th Avenue Fruit Market) in 1972.  He had moved to the USA from Greece in 1963, living first in Canada before he moved to New York.
The store sells fruit, vegetables and nuts, primarily from the US: from California, Georgia and Florida.  Bobby's own favorite fruit is oranges. "They were everywhere in Sparta," he says.  "They are the king of fruit."
He says the Greek community in Astoria may be getting a bit smaller but it is still strong.  Many of the people he knew when he first moved to Astoria still live here.
The neighborhood has "changed too much," he says.  "When I arrived most people were Greek and Italian.  Now there are people from all over."  He says he continues to enjoy Astoria for its cafés, and the fact that you can easily find Greek food products.