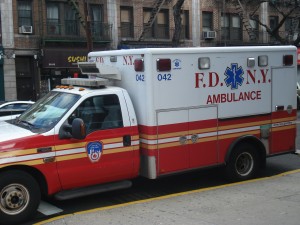 Sid is an Emergency Medical Technician (EMT) with the New York City Fire Department.   He covers "pretty much anywhere on the West end of Queens."  I spoke with him on a bitterly cold Sunday morning while his ambulance was parked outside Mount Sinai Hospital on 30th Ave.
Sid says that the work involves "anything from picking up drunks on the street, to cardiac arrests and severe trauma jobs."  He enjoys helping people through his work – to the extent that as well as working the shifts of his job (each eight or sixteen hours), he also volunteers as an EMT around Suffolk County in Long Island, where he lives. 
But EMTs often don't get the credit for their work, he says.  "With most of the stuff that we do here in NYC, we pretty much have the Fire Department in front of us.  The Fire Department get the credit and we don't.  Pretty much we take care of the patients, they take care of the fire.  So whoever they bring to us, we take care of them.  Half-dead, we bring them back alive.  We bring them back here [to the hospital], and that's the end of it.
"Sometimes, especially when there are family members around, about half of them they come to you and do say thank you, others they just don't really care."
Sid says that the sytems are different in Long Island and New York City.  "In Long Island we do everything at once.  We do fire, rescue, and ambulance first aid at the same time.  Here it's separate.  Fire is fire, EMS [Emergency Medical Services] is EMS.   I think it works a lot better when everything is together."  One reason he has continued volunteering in Long Island, which he has done for a long time, is because of the excitement of doing a bit of everything.
Training for being an EMT includes first aid, basic life support, and CPR.  Sid says that in New York the training is about three months and in Long Island it is six.  In the future, he hopes to go on to be a paramedic, and beyond that, a physician's assistant or a nurse.
Of Astoria, Sid says, "the neighborhood around here is pretty good, depending on which way you look at it.  There's a lot of diversity around here.  On one side you have Brazilians, on this side Italians, again on the other side you have Middle Easterners, and then back here there are people from Greece."
Sid was born in Colombia and came to the US when he was young – he has been here for 27 years now.  "I've been back to Colombia seven or eight times," he says.  "It's a little expensive to go down there!   And other than some family and some of my elementary school friends I don't know anybody there now, so it's a little different."
Sid says the Colombian community in Astoria is much smaller than in Jackson Heights, where many of the Colombians in NYC live.  Now, he says, many are moving out to Long Island.