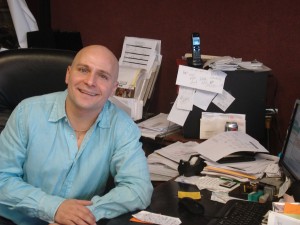 Page Real Estate has been on 30th Avenue since 1961.  It's now at 35-20 and used to be just a couple of blocks down the road.
Anthony Louis Pagano founded the business, then handed it to his son, Anthony J Pagano, who sadly passed away last month.  I spoke with Anthony J's son, Michael, who has been working in the business for 25 years.  His brother and sister also work there; as the company's website says, it's the longest-running family operated real estate business in Astoria.  Michael says that both his grandfather and father instilled in him "a solid work ethic, strong family values, and honesty in dealing with the public."
"You meet cross sections of all humanity," says Michael, on what he enjoys about his work.  "And you help people find new homes, make new beginnings."  As for the challenges, Michael says there are plenty.  One in Astoria is finding enough pet-friendly homes for dog owners.
Page Real Estate mainly deals with pre-war rent-stabilized apartment buildings.  On house prices generally in Astoria, Michael says that despite the economic downtown they have remained steady.  "That's due to a steady demand, nearby jobs, the locality, and also now the nightlife."
The nightlife wasn't always a feature.  Michael says that 25 years ago "everything closed at six or seven at night.  There would be just a few places open between the subway station to Steinway – like a fruit store, and one or two coffee places."  Of course that's no longer the case, with restaurants and cafes on every block.  "It's brought a nice group of young professionals."
He adds that the neighborhood is relatively inexpensive, safe, and close to everything.  "It's the greatest secret in New York City."