People originating from all parts of the world live and work along 30th Avenue in Astoria, Queens, New York City.  During 2011 I conducted 52 interviews with people on 30th Ave, one a week.  The interviews tell a story about the life and lives of the street.  They are interspersed with short observations.
Given that there are many more stories still to be told I am continuing to update the site on an ad hoc basis after 2011.
Why this website?
Three reasons:
Like all city neighborhoods, 30th Ave is changing.  The project will preserve a words-and-images record of the street as was in 2011 and soon after
There are many stories here and much that people can learn from one another.  But we don't always hear those stories.  This website brings some of them together in one place, to be shared.
A lot of writing about New York City focuses on Manhattan.  Not so much is written about Queens.
There may be themes that emerge from the interviews: about 21st century cities, work, and diversity.  But the important thing is the stories themselves.
The website has featured in New York Daily News: "Brit blogger tells the story of Astoria's 30th Ave, one person at a time," Mark Morales, 21 April 2011
In the Queens Tribune: "Astoria's Stories, Person by Person," Jason Banrey, July 2011
In the Queens Gazette: "New 30th Ave Photo Exhibition Unveiled," Al Ronzoni, 3 August 2011
And on Queens Mamas website: "Queens Mamas Spotlight: Annabel Short and the 30th Ave Project," 9 Jan 2012.
In the summer of 2011 the Greater Astoria Historical Society held an exhibition of photographs from the project.
The interview photographs and recordings have been donated to Queens Library digital archives.
In 2016, the 30th Ave project joined Queens Memory in hosting two events celebrating memories of Astoria, at Queens Library's Broadway branch.
About me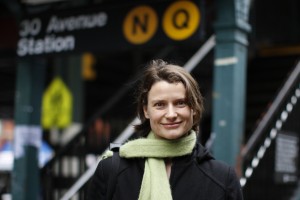 My name is Annabel Short.  I am from the UK, and have lived in New York since 2007 when I moved here for my non-profit work.
I live just off 30th Ave with my husband Carlos Hiraldo who works at La Guardia Community College, and our sons Jack and Conrad. I have trained and worked as a journalist and am always interested in the stories around me.