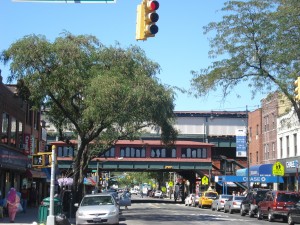 On 20 July 2011 the Greater Astoria Historical Society hosted the launch of an exhibit of photos from this site, "30th Ave – A Year in the Life of a Street."  The event was a great way to mark the mid-point of the project (which had 29 interviews at that time, 23 more to come by the end of the year!).  Five of us spoke about 30th Ave from different perspectives.
Bob Singleton of GAHS began by bringing the audience back to when 30th Ave was originally proposed as a street.  He read from the minutes of a meeting of the trustees of Astoria Village on November 4, 1850.  The trustees resolved that a new street, 60 feet wide, would be created and named Grand Street.
The proposal met a lot of opposition.  One property owner objected because the new street would run through his grove of trees.  Others complained that they would be taxed for construction and maintenance that would largely benefit others.   The proposal was never formally adopted, but the street appeared and developed rapidly all the same.
I introduced my project and described two of the sources of inspiration for it.  One was National Geographic's "Genographic" project, which had collected cheek cells from people along 30th Ave at the street fair in 2008.  They found that the street and its surroundings form one of the most diverse places in the planet.  As a local resident, I knew of course that 30th Ave was diverse: but here was some unusual evidence in the form of genetic markers.
The other source of inspiration was a woman called Helen, who once did my nails (on one of the rare occasions that I've had my nails done), at Athena's Nails on 30th Ave.  I was 33 at the time and pregnant with my son.  Helen, who is from Tibet, told me that she had had her two children when she was 13 and 14 years old.  She said she is always surprised how long women in New York stay single, and how late they have their kids.  She also told me that she had left her children in Tibet, and missed them a lot, and often couldn't get through to them on the phone.
It wasn't until after my son Jack was born that the idea for the website and of doing one interview a week came together, but those two things definitely planted seeds for it.  A short while after starting the project I went back to Athena's Nails to see if I could find Helen.  The managers told me she doesn't work there anymore and didn't know how to track her down.  It is a reminder that for every story that is told about someone along 30th Avenue there are stories – hundreds of them – that are not told.  I'm aiming for this site to tell a story of 30th Ave during 2011 that reflects as many aspects as possible, but it is by no means the story.
Frank Arcabasio spoke next.  He set up Redken Saloon Salon on 30th Ave – and is currently President of the 30th Ave Business Association.  He was inspired to become a hair stylist when he worked as a kid in his cousins' barbershop in Astoria (his interview for this site included the fabulous line, "I knew early on the power of a good hair cut").  Frank spoke about the entrepreneurial spirit of 30th Ave: how the small size of the buildings and therefore the small area for shop floors had prevented some of the big chains from moving in, and had therefore helped family-run businesses to flourish.   He also said that the internet had provided all kinds of new opportunities for people in local communities to interact and learn from each other.
Melissa Rivera began her talk describing growing up around 30th Avenue.  She mentioned her first jobs in the area as a teenager, like working at the old cinema on the corner of 30th Ave and Steinway (now a pharmacy and sports club), and at a bridal store.  She said that despite a brief stint living in Manhattan she was drawn back to the neighborhood.
Alongside her work in child welfare and raising her young son Melissa has set up a soap-making business in her apartment (in one of the railroad apartment buildings just off 30th Ave, beyond Steinway).   "Naturally Good Soaps" is a a truly local business if ever there was one, and all of the products are proudly stamped "Made in Astoria".
Her dream would be to employ a few people in the neighborhood and train them in her business.  But alongside her praise for the community Melissa injected a note of caution.  She said that with fewer and fewer mom and pop shops and the rents increasing, her community is starting to feel like someone else's community.  She is beginning to feel the pinch and she – and her son, who goes to school nearby – both really hope that they will be able to stay.
Debbie Van Cura, the next speaker, is a trustee of the Greater Astoria Historical Society.  She teaches urban sociology at La Guardia Community College.  In her talk (which you can watch on You Tube here) she quoted the wonderful urban historian Jane Jacobs, who said: "cities have the capability of providing something for everybody, only because, and only when, they are created by everybody."  She said that spirit is at the heart of what makes 30th Avenue a successful street – the fact that people from all backgrounds are able to interact, and to participate in and influence what the street has to offer.
She added that the geography of the street itself enables those interactions, with its wide sidewalks and many benches, and spaces to linger like Athens Square.   Unlike many parts of the city, when you walk down 30th Avenue you see people standing still and talking to one another in the middle of the sidewalk.  She reminded us that while the internet has provided a new forum for interaction it is those sidewalk conversations that are the lifeblood of a neighborhood.
Debbie's talk also echoed some of the characteristics of a "successful" street that have emerged time and again in the interviews I have done so far with people along 30th Ave.  Among the characteristics that many people have said they like about the street, are:
–    everything they need is easily accessible;
–    they feel safe;
–    there are people from all over the world;
–    the atmosphere is relaxed and friendly (more than in Manhattan!);
–    newcomers and old-timers generally mix well together;
–    and there is life on the streets at all times of day and night.
Sometimes I consider the dynamic of 30th Ave as a "respectful proximity of strangers."  But once you have been into someone's store a few times and spoken with the owner each time, he or she is more than a stranger.  Better to say that there is a "respectful proximity of strangers and friends."
To wrap up the event, Bob Singleton of GAHS proposed a resolution: that those in attendance formally designate the street of 30th Avenue as a "dynamic city neighborhood with easy access to everything," and "a place for creative people in search of a better life."  The resolution was approved by with a unanimous "aye!"
I want to say a big thank you to the GAHS for hosting this exhibition.  When I first went to their sprawling and fascinating space in the Quinn building on Broadway to see a documentary about the Steinway Piano Factory, little would I have known that I would be back a year later for the launch of my own little exhibit.
The photos were up through the end of August.  You can still check them out here though.  Those featured in the exhibit were:
Md Kamruzzaman – taxi driver
Lynne Serpe – at Two Coves Community Garden
Halim M – Harissa Cafe
Nancy Vinson
Aravella Simotas – New York State Assemblymember
Dr Yokaira Espiritu-Santo – podiatrist
Jonathan Ellis and Georgina Young-Ellis – of Welling Court Mural Project
Bill, Danielle, Denis, Jeanne and Mary at Corner Delights
George Haridimou – George's Auto Repair
Khaled Shallah – Pita Hot
The Saw Lady – Natalia Paruz
Bobby Kartsagoulis and Vasilios Ioannou – Elliniki Agora Fruit and Vegetable
Frank Arcabascio – Redken Saloon Salon
Martha Heredia and Elvis Raymundo – at Grand Ave Laundromat
Abdel & Ahmed Farghaly at Bakeway Café
As always, I hope you enjoy the interviews on this site and please do not hesitate to send me suggestions of interviewees annabel@30thAve.org .