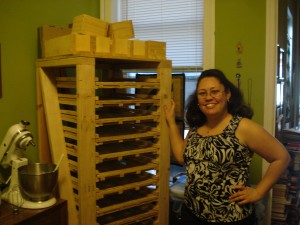 Melissa Rivera lives in one of the yellow brick railroad apartment buildings off 30th Avenue, west of Steinway.  Most of the rooms in the apartment are put to uses you would expect: a kitchen, a living room, her six-year-old son Juan's bedroom.  Another, though, is the soapmaking room.  Full of tubs, mixing machines, and bottles, that's where she make soap in the evenings, after she finishes her day job working in child welfare in Manhattan.
"I needed to create some space so I could make products.  It's hard if you keep your ingredients in one room and do your mixing and cooking in another room.   So I figured it's part of what you have to do, to make it happen."  Having given up her bedroom to have space for soapmaking, she sleeps wherever she falls asleep.
Living and working in Astoria
Melissa's mom was born to Puerto Rican-immigrant parents in the apartments that used to be where the Lincoln Center is now.  When the Lincoln Center was built the family was re-housed in Queensbridge, where her mother spent the rest of her childhood.  Her father came to New York from Puerto Rico.  Melissa was born in Astoria, and has lived here for most of her life other than a spell in Manhattan.
Sometimes, she is nostalgic for how Astoria was when she was a child.  "I miss the houses.  Over here on 37th Street going towards 31st Avenue, you used to have these gorgeous Victorian houses, with the wrap-around porches.  They're all gone."
And she says that while Astoria is still very family-oriented, there is something about the old families.  "Round here was very Greek and Italian.  You had all the grandmas wearing black…I'm an old soul so I think that's what it is, I like the old stuff."
As a child she worked full-time outside of school in places along Steinway Street.  Her first job was selling popcorn and tickets at the old movie theater, in the building which is is now New York Sports Club and Duane Reade.  "Actually I was working there illegally at first because I was thirteen, and you can only get your working papers at fourteen," she says.
She also worked in New York & Company clothing store, a couple of supermarkets, and at a bridal store.  She enjoyed seeing all the brides coming in for their fitting.  "I would think oooo, that's the dress I want for my wedding.  Of course, when I got married, I wore nothing like what I thought I would wear!"
Working with kids
After college, Melissa got a job as a social worker in a girl's group home.   "I was lucky, I found my passion really quick," she says.
Now she does not work directly with the kids, but trains the staff who do.  "It's really about teaching them how to like teenagers.  Teaching them how to work with them…Sometimes I miss working with the kids, but I'm aware I'm not as young as I used to be!"  (She's 39).  Her current position and supportive boss also give her some flexibility to run her soap-making business alongside: Naturally Good Soaps.
Making soap
Melissa started becoming interested in green living in 2003.  She began to research essential oils, realized she could use them to make her own products, and found her way into soapmaking.
"The process of making soap is pretty cool," she says.  "I think like a baker, coming up with recipes, and wanting to experiment with new stuff."  She uses five main ingredients: olive oil, coconut oil, sweet almond oil, shea butter and cocoa butter.  Those she mixes together with essential oils for the aroma, with herbs for the color, and with lye that kick-starts the process of "saponifying" – turning the ingredients into soap.
"It's like making a cake.  Then you scoop it out and put it in the mould.  Perfect!"
Like in all industries, soapmakers like to have the best equipment to do their work.  In her soap-room is a new wooden soap-drying wrack, made by a carpenter friend who had recently been made redundant.  (Once in its mould, the soap takes four to six weeks to dry – Melissa used to dot them around the apartment on cookie wracks).
"When he delivered it I wanted to hug him I was so elated.  He couldn't really understand it.  I was like 'no, trust me, this is a soapmaker's dream".  The way you feel about the Yankees is the way I feel about this."
She currently sells her soap products to friends, colleagues, people who follow her on social networking sites, as well as to one wholesale client, a wholefood store in Shelter Island.
Melissa says that soapmakers are on the whole a friendly and supportive bunch.   She knows others in New York, South Carolina, California, Ohio…with whom she shares ideas and advice.  Most are women, though there are a few men.  The men tend to be into the chemistry of soapmaking – and they tend to be married to a soapmaker!
Melissa is clear about her goal for the future.  It combines her passions for Astoria, soap-making and social work.   "I'm very clear that I don't want a retail location.  My dream is to have a nice little spot in Long Island City or Astoria right by the water – I love the water – where I can produce my stuff.
"I could hire some local people.  And I would really like to have some kind of internship program for young people.  Over the summer they would learn how to make soap, and how to run a small business – the shipping and packaging, calling clients, all those things."
No doubt some would leave inspired to set up small businesses of their own.