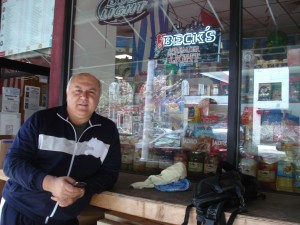 Panayiotis Menikou is the President of EuroMarket (slogan "Fine European Foods).  It is on 31st Street under the subway tracks, half a block south of the 30th Ave station.  When he is not dealing with orders in his office he can often be seen outside the front of the store, talking with friends and neighbors as the trains rumble overhead.
Panayiotis was born in northern Cyprus.   He was fourteen when Turkey invaded the island in 1974.  "They came from the North towards the South," he says.  "My father put us in a tractor and we drove south to save ourselves.
"I told him I wanted to  take the radio.  I had our big radio all ready to go.  He said 'oh no, leave it here, you're going to break it.'  We thought we would only leave for one day or two days and go back.
"So that's how my father found himself out on the street with his wife and five kids (I have two brothers and two sisters).  The people from my community were spread out across different parts of southern Cyprus."
Panayiotis worked hard through high school and then went into the army for compulsory military service.  He was wondering what to do on leaving the army when some friends who had gone to study in the US encouraged him to join them.  They helped him enroll in Queens College to learn English, and in 1980 he moved here.  He later brought one of his brothers, and then the other brother, and then his sisters to the US to study as well.
While he was studying, Panayiotis opened up "Cyprus  Deli" on 30th Avenue.  His siblings all returned to Cyprus at various points, but he stayed on.  He had the idea for EuroMarket because a lot of his European customers started asking if he could stock products from their countries in the deli – he realized there was a need for a European supermarket in the neighborhood.  One day he was walking down 31st Street and passed a pool hall that had been closed for two years: he decided that would be his location.
EuroMarket sells food from all over Eastern Europe: from Bosnia, Serbia, Montenegro, Croatia, Poland, and Greece…"Slowly-slowly we will sell everything!" Panayiotis says.
It also stocks over sells over 700 varieties of beer.  "Cyprus Deli became well-known for its beer.  We were the first around here to stock the German and Belgian beers.  So when I started this store, I thought we must keep selling beers from all over the world."  His own favorite is Duvel from Belgium for its strong, full flavor.
Panayiotis says it was hard getting the business going at the beginning.  Its location just off 30th Avenue means that people do not stumble across it – they have to know it is there.   But things are getting better now: he has more and more products, more and more customers.
One of Panayiotis' staff opens the store at eight in the morning, and he arrives at nine thirty or ten.  Then he works through until midnight, seven days a week.  "I'm single," says Panayiotis, "my business takes my life!"
Panayiotis has lived in the neighborhood for 31 years and has no plans to move unless one day he returns to Cyprus.  "I like it because it feels like you're in Europe, because of the people, the cafés.  Everything I need is close to my house.  And the city is only 10 or 15 minutes away."
Once or twice a year he goes to Cyprus to see his family.  "Cyprus is beautiful," he says.  "There  is a lot of tourism, and the economy is strong."
The "green line" between the north and south of the island was opened in 2003 so residents from either side can now cross over.  "My brothers went to see my house.  But I didn't go.  I don't feel like going.  You know, there are Turkish people living inside your house, and you have to ask for permission to go.  This is ridiculous.  We have a lot of land there that today would be worth a lot of money.  It's near Famagusta, one of the best beaches.
"My father had passed away in 1991.  I think all this heavy stuff happening to him, it was bad for him.  So my brothers went.  And they took my sister who was thirteen months old when she left.   They showed her where she was born, and where she made her first steps."