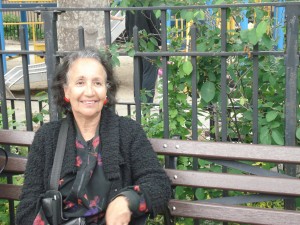 The day I did this interview (May 15) was a special one for me, because it was my son Jack's first birthday.  Festivities over, I set out with Jack asleep in the papoose to find somebody to interview for this website.
On one of the benches beside Athens Square Park I found Nancy Vinson talking with a group of friends.   Nancy has lived in the neighborhood for almost 30 years.  Our conversation was accompanied by the sound of children in the playground behind us, always so busy at weekends.
Nancy worked in sales in the shoe department in Saks Fifth Avenue and is now retired.  She's happy to be retired after working for many years.  But she enjoyed the job for the people that she met.
Occasionally, a celebrity would come through the department – once she saw the actor Jackie Gleason.  Usually though, they sent their personal shoppers who would try on the shoes in a special room and then send them off to a nearby hotel room or apartment.
Nancy's parents moved to New York from Puerto Rico and made their living working in factories.  She had her own kids and brought them up in the Bronx, "many moons ago", she says.  When her kids had grown up and left home she moved to Astoria.  "I wanted to get away from a neighborhood that didn't feel safe to me.   I told my mother I just can't stay here.
"Somebody told me about Astoria.  An empty apartment came up on 29th Street so I thought I'd take it.  I'm still there!  And sure, I'm going to stay, where else am I going to go?  As long as I can climb up the five flights.  Then we'll see what happens."
Nancy goes to a local senior center where there's music, dancing and bingo, and she volunteers there as well.  She goes to church nearby.  She has always felt safe in Astoria.  The main change has been the new businesses that have opened up, including Trade Fair supermarket opposite Athens Square Park, and many restaurants.   Astoria has all that she needs. "You rarely need to get on the train to Manhattan.  I hang out here," she says.