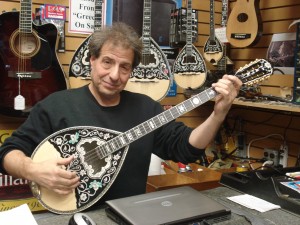 George Phillips worked as a NASA engineer for eight years, before a change of direction in 1982 when he took over Astoria Music at 35-19 30th Avenue.  The music store has been there since 1922.  George says that it is Astoria's third oldest business, after Ronzoni  pasta company on Northern Boulevard (though that is no longer there) and the Steinway Piano factory (which is).
Astoria Music sells the whole range of instruments, does repairs, and also runs a music school.  In its early days, it was also a "straight to vinyl" recording studio.  Its website lists well-known musicians who have either recorded or bought merchandise there.
One of Astoria Music's specialties is hand-made bouzoukis from Greece.  "I average anywhere between six to seven bouzoukis a month," George says.   "This is the only music store in America that sells bouzoukis like this – well, the real thing.  There are lots of imitations.  This is the real thing."
Bouzoukis are in the same family as the guitar, but tuned one step lower than a guitar so that their open strings are D-A-F-C.  As well as running the store, George, who is Greek American, plays the bouzouki professionally – he has done so for around 45 years.   "We do corporate events, shows, festivals, weddings…traditional Greek music and also top 40 American oldies, stuff like that."
George says that the neighborhood has changed little over the years, other than the arrival of more restaurants and some changes in the stores.  "The houses are the same.  The character is the same because of the European influence around here.    There are still a lot of Greeks.  Italians, Yugoslavians, people like that, they have kept their homes here.  That's what keeps the neighborhood halfway decent.  People clean their front yards, they care about their homes.  They're homeowners."
George laments the fact that the number of live music venues is on the decline.  He says it may be less pronounced in Astoria and other parts of New York than elsewhere in the US, but all the same they are "slowly, slowly fading out."  In his view, it is because "a lot of the music written today is un-reproducible.  There's just a lot of junk out there.  Bands don't play that kind of music…it's the DJ playing it.
"Even as recently as 20 or 30 years ago, in one year you would have 200 songs, brand new songs that were written by different artists.  Out of those 200 songs, about 180 of them are still being played today as standard.   Beautiful songs.  Some Sinatra songs, Billy Joel songs, or Beatles tunes from back in the '60s.  Still being played.  Today, you would also have 200 new songs that are out right now.   They're considered a big hit.  But you will never hear that song again in six months.  They are dead."
Despite changes to the music scene, Astoria Music will likely be a feature of 30th Ave many years from now.  A wide range of musicians in the neighborhood frequent it.  And George Phillips is committed.  "I love what I do.  Music in any form, music only makes life better."