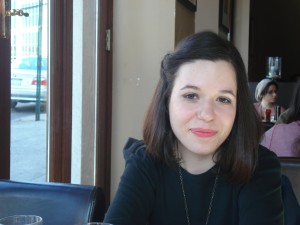 Jeanne Marie Boes, now 23, was born and brought up in Astoria.  She used to live on Newton Avenue and for the past 11 or 12 years has lived on 30th Avenue.  There was a Casio keyboard lying around at home when she was a child.  She liked playing about on it, and hasn't looked back since then.
"I've always leaned towards music, she says.   She went to Astoria's Frank Sinatra School of the Arts. "It was a wonderful atmosphere there.  Lots of music, drama and art.  I would go back if I could.  Just to make it easy again.  Getting out of the real life, you know!  If I could do it over I would," she says.
Real life for her now is working as hard as she can on her music.  She's a singer, songwriter and musician.   "Really what I'm aiming for is making people smile.  For them to walk away happy with what they heard.  Which is ironic perhaps – a lot of my music is blues."
Blues and jazz are her main genres but in some recent songs like "If It's Goodbye" she has moved more into pop.  Her inspiration is other musicians, especially those she heard while she was growing up, like Frank Sinatra, Judy Garland and Ella FitzGerald – also the Beatles and Billy Joel.
Two words she would use to describe Astoria are "emerging" and "inspiring".  "There are all these new businesses and restaurants.  30th Ave, Broadway, and Steinway, it seems like they are really booming.  Astoria is just gorgeous."  She plans on staying.  Until, that is, "I move to my dream loft in the village."
Along 30th Ave, Jeanne has played in The Quays and Shillelagh Tavern.  And she plays throughout the city.  While Queens music venues are on the increase, she says that Manhattan is still where most of the opportunities are.  "It's more competitive.  But also there is a lot going for you and you have a lot of chances."
Last year Jeanne was a finalist for Queens in the "Battle of the Boroughs" music contest.  She performed  "A Seasoned Heart" in WNYC's Jerome L. Greene Space (known as the Greene Space).  She was excited to be playing right next to WNYC radio, home to one of her favorite stations WQXR.
Earlier this year she brought out her latest album, an EP called "Promising Girl."  Now, she's performing her songs wherever she can.  And she is carrying on with what she enjoys most about being a musician: "Coming up with a good tune.  Creating the music."