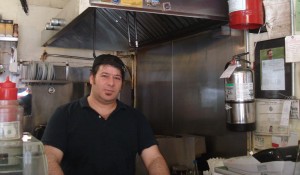 Khaled Shallah is from Arwad, Syria's only inhabited island.  He trained and worked for many years as a boat mechanic.  His work on container ships took him to "all the places you can imagine," he says, from South America, to Europe, to Asia, to Africa.
The boats he worked on carried all kinds of things.  One had a shipment of live lambs from Romania.
Khaled says that he enjoyed life at sea, being far away, and close to nature, and beginning to feel like wherever he was, was home.  But eighteen years ago he came to settle in the US.  He started a new life from scratch.  He worked at a cousin's restaurant in Manhattan and for a while in another restaurant  in Texas.   Back in New York, eight years ago he set up Pita Hot on 30th Ave.
His inspiration for Pita Hot came from a combination of seeing the cooks preparing food on the boats he worked on and his cousin's Manhattan restaurant.  The menu includes falafel, hummus, lamb- and chicken-filled pita pockets.  All the food is things that Khaled likes himself.  "If there's something I don't like, I don't sell it, seriously," he says.  "If I don't accept it for myself or my kids I won't sell it."
Pita Hot's small space is filled with the sound of sizzling on the grill.  The walls are densely decorated with postcards, calendars and ornaments from the Middle East.  Customers take their food out or eat it at one of the small café tables.  For each waiting customer, Khaled or one of his co-workers dunks a small piece of pita into a jar of hummus on the front counter – a Pita Hot signature gesture.
Khaled doesn't work fixed hours.  "I usually come in to open the shop, to make sure that everything's in place.  Then I come back and forth during the day, and we stay open late."
He says that if you stand in the shop for just a couple of hours you could see people of 40 different nationalities pass by.  "From Syria, I just know a couple of kids.  The Arab community here is mainly Moroccan, Algerian and Egyptian.  There are some Tunisians, Yemenis, Palestinians and a few Lebanese.  That's in addition of course to others – Greeks, Italians, Russians, Yugoslavians…"
He has never had any trouble in his shop.  "People are so friendly here.  For some reason Astoria people are nicer, better than in Manhattan.  If you have ever worked in Manhattan, it's very different.  When you approach someone there, they think you want something from them.  Here the culture's much more relaxed.  Much more European."
Despite feeling completely at home in Astoria, Khaled says that in an ideal world he would have brought his kids up for the first years of their lives in Syria, moving with them to the US when they were a bit older.  In the US they go to school too young, he says.  They go young, but while there they learn much less than if they spent that time with family and friends during their early years.
Khaled does not know how long he will be in Astoria.  Maybe one day he will move to the Midwest – the space and nature there appeal.  "This is New York," he says.  "Does anybody know how long they will be here?"