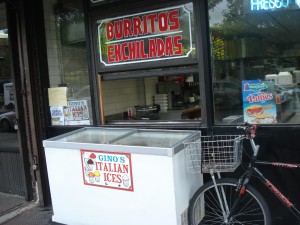 As of yesterday Summer is officially over.  It already felt like it was over a few weeks ago, with the passing of labor day and the heavy rain that settled in over 30th Ave and the rest of New York City as if to say enough fun, back to work.
While summertime is still fresh-ish in our minds, here's a post in its honor, looking back in time to the ice cream parlors that featured along 30th Avenue until sometime in the 1970s and 80s.  I was recently contacted by Alfred Holzman, now in Miami, who lived on 30th Avenue from 1944.  His parents owned a paint and wallpaper store at number 34-03 called "Grand Paint Supply Company."  Among the vivid memories that he and his contemporaries have of 30th Avenue are the ice cream parlors.
"During the summer months, in the evening, the ice cream parlors would be jammed with eat-in and take out customers," he says.  "Without question, these places were absolutely spotless.  In addition to ice cream, they were all counter and booth luncheonettes.  The place to go for fountain drinks.  Each had a juke box."
There were three along 30th Ave: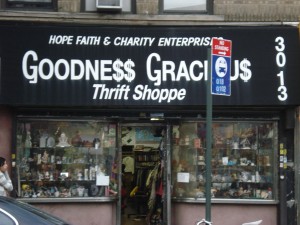 Jacoby's, between 30 and 31st street, where the "Goodness Gracious Thrift Shop" now is.  Alfred says: "I was there many times for lunch when I was in the fifth and sixth grades at PS 5.  Teachers had lunch there, and I saw them smoking whilst sitting in the booths." (PS5, which was on 29th Street just off 30th Ave, burned down in 1967 after an eight-year-old pupil set a fire in a clothes closet while playing with matches).
Gerken's, at 34-04, where Astoria Art and Framing now is.  This was directly opposite Alfred's parents' shop.  "It was run by the wonderful couple, Henry and Margaret Gerken.  Like us, they lived above their store.  They started the business shortly after the war, in about 1947.  The façade was black and very stylish.  I and my family knew these hard-working folks well.  The hours were 10am to 11pm.  They sold great ice cream made in the basement.  Terrific Banana Splits, Banana Royals, and their specialty, the 30th Avenue Special. The Gerkens retired to Florida in the late 70s / early 80s."
Rudy's, a block up from Gerken's at 35-16.  "This business was the oldest of the three.  Rudy owned it, and again, the family lived upstairs," says Alfred.  "The façade was/is beige.  Rudy died long ago, but his daughter, a Bryant High grad, ran the place.  She married a guy who was an electric train collector.  Years ago, he began to sell electric trains from one side of the store."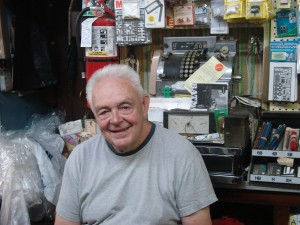 He, Marvin Cochran, still sells electric trains from the store, which is now called "Rudy's Hobby Supplies."  They also sell model toys and all the materials you need to make them.  I dropped by to speak with Marvin, who told me that the store first started selling ice creams in 1939 and was "Rudy's Ice Cream Parlor" until 1987.  "We changed over because it was just too many hours, and we were getting older.  It was pleasant though – you had your friends and customers who you knew for years and years coming by for their ice cream."
In the non-summer seasons, the ice cream parlors still did well, selling chocolates and candies – especially at Valentines, Easter (when they sold chocolate bunnies made in-house) and Christmas.
The ice cream parlors may have gone but there are still plenty of details that define 30th Ave in summertime, for which we'll now have to wait another nine months or so.  There's the water fountain for kids to cool off in at Athens Square.  There are the groups of chairs on the sidewalk outside the Laundromats where people chat as they wait for their clothes cycles to finish.  There are long sticky waits for trains in the sweltering heat at 30th Ave subway station (which really shouldn't be called "subway" here at all, because it's elevated).  And of course there's ice cream too, just sold in different ways: like Gino's Italian ices sold from the cart by Salerno Pizza near 29th Street, and the ice cream vans that jingle their way along 30th Ave and its surrounding roads.