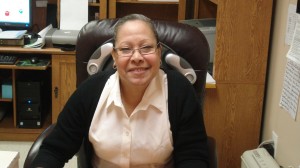 "We have one participant of 92, another of 93," says Olga Oukacine, Director of the Astoria branch of the Spanish Speaking Elderly Council-RAICES, on 30th Drive.  Up to eighty participants attend the center each day, though some have found it harder to make it recently because of the cold weather.
"We have people from Dominican Republic , Ecuador, Colombia, Peru, Bolivia, El Salvador," says Olga, who herself is from Santo Domingo in the Dominican Republic.  The council is funded by the NYC Department for the Aging.  It provides advice on immigration, English classes, health check-ups, and activities like bingo and zumba exercise.   The council throws monthly parties for everyone who has had a birthday that month.  But the most popular activity of all, says Olga: "Es bailar.  Merengue, salsa…".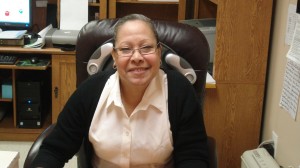 Olga moved to New York in 1974.  She first lived in Corona, Queens and moved to Astoria seven years ago.  She started working for RAICES as a volunteer at their Corona center.  "I really enjoyed it, and learned so much.  The first position that came up –I got the job.   From there I've carried on learning, learning.  I feel good when I'm helping people."   She worked a year at one of RAICES four centers in Brooklyn and started working at the Astoria center in 1999.  She loves Astoria for its "tranquilidad".
Many of the new participants find out about the council through word of mouth from existing ones.  They are also referred after making 311 calls.  Once they have found it, a lot of them attend every day.
Olga says that the challenging part of her job is that, "hay algunos de los participantes que son un poco difíciles," – some of the participants can be a bit difficult.  "They think that things should be just as they want them to be.  Carácteres fuertes."
The most satisfying aspect: "When most of the participants first come here they are depressed in some way.  Some of them may be alone, others are living with family and may have problems with their son, or the husband of their daughter…different kinds of problems.   When they come here they forget those problems.  Their depression goes away."
Teofila Cambeiro is one of the participants who comes every day.  Teofila is originally from Spain.  As a young woman she used to come on vacation to New York.  On one visit she met and fell in love with her soon-to-be-husband, who was also Spanish but lived here.  She moved to New York 50 years ago and for 49 has lived in Astoria.  "Me encanta vivir en Astoria," she says.  "Es como que fuera mi casa, mi barrio, mi gente."
When her husband died two and a half years ago Teofila started coming to the council, which happens to be on the same block as her apartment.  "Yo me quedé sola.  Realmente es lo mejor que me ha podido pasar."   "I found myself alone.  This is really is the best thing that could have happened.
"I come all the five days that it opens.  If it opened seven days a week, I would come seven.   I may be the only Spanish person here, but I feel like I'm all nationalities."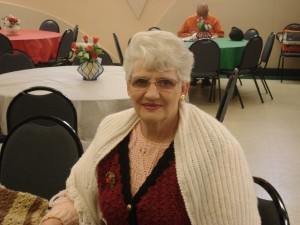 Teofila Cambeiro at RAICES in Astoria
LISTEN: Olga-Oukacine-4-Feb-2011