Here is the interview from this time last year, with mailman Benny Banker.  Watch this space for new interviews.  Initially this was intended to be a year-long project.  But there are plenty more stories to tell and people to read them, so I'll be starting interviewing again in September 2012.  Annabel.  (p.s. the archive of all interviews so far is here).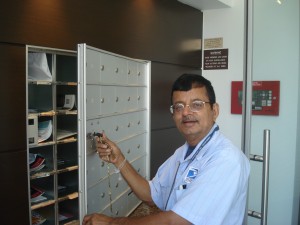 Benny (Virendra) Banker has been delivering mail along 30th Avenue for over 13 years.  "My area covers most of this heart part of Astoria," he says.  "It's a nice residential area.  There's Astoria General Hospital which is now Mount Sinai, so there are a lot of doctors around here."  Benny is also a singer of Hindi devotional songs and other forms of Indian classical music.
He lives in Queens Village, in Eastern Queens.  It takes him one and a half hours by train to get to Astoria.  But he makes it no matter what.  "On the day when there was the biggest snowstorm I woke up at four in the morning, I walked to the subway station and I took a train and I made it here by eight o' clock.  I managed to work, while 80% of people didn't make it to their work that day."
He adds: "When people see us in the snow and the rain they feel really sorry about us.  But if you talk about counting the full year of 365 days we hardly have those heat waves and those mountains of the snow or the rain.  Hardly I would say ten days in the year.  This job may look like its hard but I think it is not that bad.  To be honest, the difficult and the easy thing about the job is just your mindset."
Benny says that he loves his job "because it's a service for the people.  I feel good seeing old people – when they wait for me and then they see me they become so happy.  If I am off a while, when I'm back everybody feels like a family member came back after a long time.  This job is also my lifesaver, because it gives me compulsory exercise everyday."
Benny was born in Gujarat, India.  He came to New York City in his late teens, went back to Gujarat in 1977 when he got married, and returned to New York with his wife.  His three children are now grown up: one son is a pediatrician in Houston, one is a gastro-intestinal doctor in Stonybrook, and his daughter is in business management.
Benny crams a lot into his spare time.  He sings bhajan sandhyas (devotionals) and light classical Indian music in various languages including Hindi, Gujarati, Sanskrit, performing at events in New York and also other parts of the US.  (You can listen to him singing here).
He also designs and maintains websites, making the most of his Sunday mornings when he wakes up very early.  He has created one for his music, one for the block where he lives with details of their annual block party, one for hisreligious community, and also a site for memories of his mother.
When Benny first started working for the US Postal Service he was working in Brooklyn and living in Woodside.  That commute was very long: he applied for a transfer, and within six months his choice of the Long Island City area came up.  One of the main changes in the area that has affected him has been the increase in large new buildings with many apartments.  "That creates a parking problem mainly.  Before we used to find parking any time – now we have to struggle for it."
Before, he says, there was a lot more first class mail.  "Now there is more junk mail, though even that is decreasing."  He hastens to add that mail is not dwindling entirely.  "People still have to mail things like lawyers documents.  People still need a hard copy."
The US Postal Service is currently in financial trouble and is planning to make major cuts, including by closing post offices.  One of the four in Queens on a list for potential closure is the Grand Post Office on 30th Ave between 45 and 46th Streets – over 1000 people have reportedly signed a petition to keep it open  [see update in comments below]. Benny keeps things in perspective though.  "Like every other business the post office is in the midst of hardship but personally I don't think there's a serious problem.  People do need to mail a letter.  Every business has a right to save the money and they are trying, but what I see in a big city like New York, downsizing will be almost impossible.
"What I say, is think positive you're going to get positive.  If you think negative, you're inviting the negative."