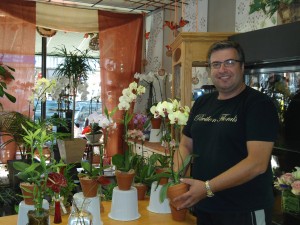 Gus Prentzas worked in a flower store while he was a politics and international relations student at college.  Then at the age of 22 he bought his own flower store in Astoria, on 29th and Ditmars.  Other than a short period out, he has stayed in the flower business, while keeping politically active through his involvement with local organizations.  He was NYC's youngest ever school board member, and is currently Co-Chair of Community Board 1 (which covers Astoria), for example.
Pavilion Florals on 30th Ave was founded in 1974, and Gus bought it 15 years ago.  Its previous owner's partner ran a radio station which was popular with the Greek entertainment industry.  Greek singers and entertainers would stop by the shop when they were in New York.
The store is still a community mainstay.  "Half my day is spent helping people out in the community," Gus says, on issues ranging from traffic problems, to overcrowding in schools or in the nearby Mount Sinai Queens hospital.  "It's not the hospital's fault," he says, "just its limited resources".
His philosophy is that he does not have customers, but friends.  He adds, "As a florist, you deal with people on a very personal level.  It could be a baby's birth, a wedding, or a time of sadness and sympathy like a funeral.  You're there in the happy and the sad times in their life."
One of the challenges in his industry is the fluctuations in the prices of the products he buys, among them flowers of course.  The largest exporters of flowers are Holland, Colombia and Ecuador.  "If you're buying from Holland," says Prentzas, "you're dealing with the Euro, so as the Euro goes up the prices of flowers goes up.  Or, for example, if there are a lot of floods in Ecuador or Colombia around Valentines Day, farms get flooded out, there's a shortage of roses, and that forces us to sell for higher."
It's not just the flowers.  The plastic for wrapping them has gone up 500 percent over the last five years.  And recently flower stores have confronted a shortage in helium for the first time.  "You'll probably be shocked to find people having to charge $4 to blow up a balloon soon," he says.
If someone from outside the neighborhood was visiting 30th Avenue, Gus would tell them, "just take a stroll about 10 blocks and you'll see the diversity.  There will be an element of something that you are going to find attractive, or something that connects with you that will draw you to this community."