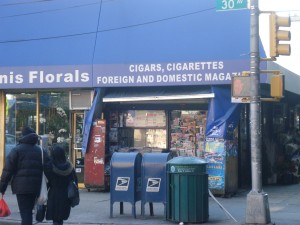 Sometimes I buy a newspaper by the 30th Ave subway station to read on my way into work.  It can feel a bit old-fashioned, unraveling the large paper and turning its pages while trying not to elbow my fellow-passengers, whose attention is focused on their blackberries and i-books (or sometimes on their paper books – I wonder how long that will be the case?).
When I buy the paper, I'm always struck by the choice of languages available.  Ali, who works at the newspaper shop on the corner of 30th Ave and 31st Street, says "We have newspapers in all kinds of languages.  Italian, Greek, French and Korean.  Chinese, Arabic, Spanish, English."
Ali himself is from Yemen.  His father moved to the US in 1969, spending ten years in  California before moving to New York.  He set up a newspaper stand that became the shop.   His father has now died, and Ali runs the business.  He starts work at 5am, seven days a week.  His mother and sisters still live in Yemen, and he often goes to visit.  Regarding the Yemeni community in Astoria, he says that it is small – perhaps 20-30 people – the Yemeni population is much bigger in Brooklyn and the Bronx.
"We used to sell mainly English, Greek and Italian papers," he says.  Now Astoria is changing.  There are a lot more people buying papers in Albanian, Arabic and Chinese."  But the internet means that times are tough. "People can get their information on the internet for free," Ali says.  "We used to sell 300-400 papers a week.  Now it's more like 100-200."
"Maybe in the future I'll start working in a restaurant," says Ali.  He's not sure he'll be selling newspapers for ever.