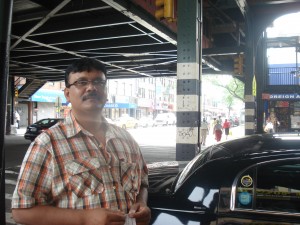 Under the elevated tracks by the 30th Ave subway station there are always a few cab drivers waiting for passengers.  It was one of those drivers who took me to hospital when I went into labour with my son: walking under the tracks often reminds me of that moment.
Recently I spoke there with Md Kamruzzaman.  He lives in Queens – his son goes to school in Jamaica.  He says that he makes enough money from driving a cab: "not enough to save, but enough to survive."
Md Kamruzzaman says he finds the toughest parts of the job are driving through heavy traffic, especially in the morning rush hour, and New York's complicated road-sign system.  Before coming to New York in November last year, he lived in the Northern Mariana Islands in the Western Pacific.  (Md Kamruzzaman is originally from Bangladesh, which he left 20 years ago).  The islands use the US road system but of course the traffic is nothing like New York.
"So when I came here at first I really got a lot of tickets.  Parking tickets, and tickets for not following signs or making a turn when you shouldn't.  You have to be really careful.  When you have to pay the ticket it's a lot of money."
The aspect that Md Kamruzzaman enjoys most about driving a taxi is the interesting and unexpected people he meets.  Once, a passenger got into the cab and asked him to take him to the moon.  "I told him, I don't know how to get to the moon.  And he said, oh yeah I know how to get there."  Md Kamruzzaman laughed, "I ended up dropping him off on a normal street."