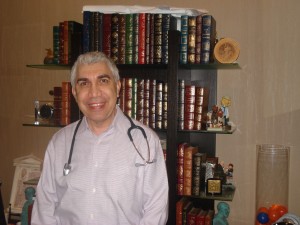 You can get a sense of how busy Dr Demetrios Markouizos' practice will be by the number of strollers out in the hallway.
Dr Markouizos has practiced as a pediatrician in Astoria for almost 25 years.  He was inspired to become one by the pediatricians who took care of him as a child, first in Greece and then growing up in Brooklyn.  His practice is now on Astoria's 37th Street, just off 30th Ave.
Taking care of children is different to adults in various ways, he says.  "Children get sick easily, but they get better fast.  Sometimes, when older people get sick you see them deteriorate and that's very heartbreaking.  Kids know how to bounce back.  They are very resilient and have a lot of resolve."
That resolve seems to have rubbed off on Dr Markouizos.  Last year he was diagnosed with prostate cancer.  "It was a little tough," he says, "but I had a lot of good people around me – family, friends, and importantly my patients as well, who gave me the inspiration to continue and fight.  I did, and now I'm cancer free."
He says that the experience was a reminder that life can take a turn for the worst at any time.  It gave him all the more reason to appreciate his passions: his family (he has a 12 year-old-daughter), his work, and when he is not working, travel.
"I love to see different cultures and types of people – how they live and adapt to their environment.  That's what I would like to do more of in the future," he says.  The fact that he now has an able assistant Dr Nick Papaevagelou (called "Dr Nick" by his patients) has already freed up a little bit of his time.
He says that one of the most important things for a pediatrician is good communication with patients' parents.  "An infant or young child cannot tell us what the problem is.  So if we have poor communication between the parent and physician the wellbeing of the child is going to suffer."
Thank yous are important as well.  "Unappreciative people I don't appreciate!  There are some people, no matter what you do for them you can't please them.  A thank you is worth a million dollars to me."
When Dr Markouizos first started his practice in Astoria it was on 30th Drive, near St Demetrios Cathedral.  Then they moved to Crescent Street and finally built the new building on 37th Street, where he hopes to be for some time.  He has brought different functions under the same roof; the main pediatrics practice on the ground floor and a laboratory for samples and tests on the second floor.  He hopes to also introduce special facilities such as pulmonology and gastroenterology.
There is no shortage of patients – currently the practice has between 7000-8000 on its list.  Though (full disclosure) my one-year-old being one of those patients, I can testify to the fact that Dr Markouizos and Dr Nick somehow give their complete attention to each one who comes through the practice.
The neighborhood has got more "chic" over time, Dr Markouizos says.  "There is a lot of effervescence and movement along 30th Avenue which is good for children.  It's a delight to be around here.  It's full of life."