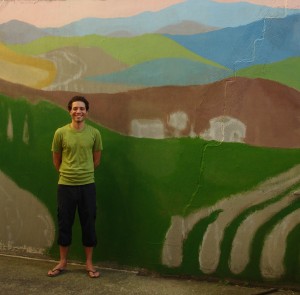 On the wall alongside 30th Ave's Vesta restaurant there is a mural of a farm scene.  A cow and a pig look with trepidation through a window in the middle of the wall, as if to say "that's where our friends ended up?"  To one side of the mural is the signature "Davi 09".
Davi  is Davi Leventhal, who lives just off 30th Ave, a few blocks away from Vesta.  He was born in Brazil and came to New York with his parents at the age of one and a half.  His father had a two-year contract to set up the New York office of the insurance firm he worked for.  The contract was extended, and extended again, and the family stayed in New York.
Until his early teens Davi lived on Roosevelt Island.  "Often when I tell New Yorkers that I grew up there they say 'who, what, why?!'", says Davi.  "It's its own little world that you would never imagine being next to Manhattan."   Davi says that when he was growing up there, the island was tranquil, with a lot of parks and an everyone-knows-everyone atmosphere.
Davi found he had a knack for drawing while he was at school.  One of his specialties was drawing caricatures of teachers, some of whom found them amusing, others less so.  But it wasn't until he was in his final year that he decided to embark on a career as an artist.  He quickly built up a portfolio and got into Pratt Institute in Brooklyn.  "That was eye-opening," he says, "because everyone around me either came from art-oriented high school or grew up with art tutors."
Davi works in all kinds of media, "anything 2D", though his favorites are oils and pen.  When he works in pen he usually uses a bic biro, having never lost that affinity for it he had at school.  Examples of his work are on his website and blog. [continued below]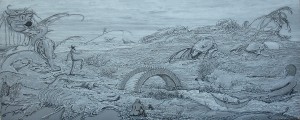 He enjoys murals too; currently he's painting one in his backyard for his landlord (a scene of Tuscany), and Mundo restaurant on Broadway has invited him to do one there as well.
The best part of painting murals, he says, is the feedback from pedestrians.  "It's fun to see people appreciating your work as you do it."  And he had got over the "stage fright" of working in public when he took part in a project copying master paintings in the Metropolitan Museum.  "For example I was concentrating on a painting, tweaking the face and everything, and heard someone say 'what's wrong with the eyes?'  I looked down and there was a 3-foot high kid looking at my work.   Kids are always dead on.  The eyes were off."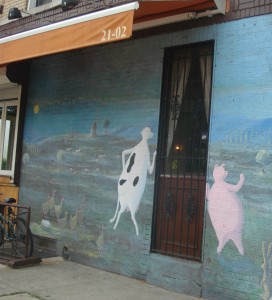 Davi freelances on art projects – currently he is working at MOMA Museum doing window changeovers – though he would like to one day earn a living from his art.   There are certain themes that run through a lot of his work. He uses fluid forms to show life's interconnectedness, and tries to keep all the elements (earth, air, water etc.) in mind.
Many of his drawings and paintings have a lot of detail.  He hopes to counteract our environment of multiple distractions and short attention spans.   "I want to create works that force people to pay attention.  Works that have so much going on that the person looking can travel within it, and see something else each time they look back.  It's a lesson in focusing."
Davi moved to Astoria four years ago.  He likes its calm: "You don't get that hecticness like in the city.  You can almost feel you're in a village."  Yet at the same time he thinks that the village-ethos can be too insular.  "Some people here seem never to have left the neighborhood."

When he got together a group of people to create an artists' collective last year, he found it frustrating that others wanted to keep it within Astoria while he wanted to involve artists from all boroughs.  Another challenge he faced was people's limited time: "In New York everybody is so busy, and hardly has time for themselves let alone for anything else."
On the Brazilian community in Astoria (which is centered around 36th Ave), Davi says that since the recent recession there are probably now more Brazilians moving back to Brazil than moving to New York.  Davi goes to Brazil from time to time to see relatives, and some of his artwork is owned by people there.
One thing Davi would like to see less of in Astoria are "those places that blast techno music that's totally different from the culture here."  He would like to see more boutique clothing and arts and crafts shops, and venues for musicians to play.  "It's hard to find live music here.  So many musicians live in Astoria but they always have to leave Astoria to play their gigs."  (Others agree – see this rallying cry).
And of course there is always room for more art.  Don't be surprised if before long a freshly-painted mural appears on an Astoria wall with the signature "Davi '11" in the corner.