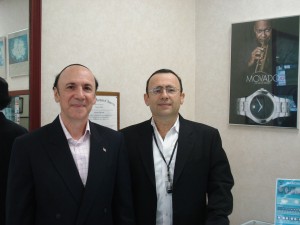 Brothers Ralph and Yury Almaz opened their jewelers store at 35-13 30th Ave 26 years ago.  It is aptly named Almaz Brothers.  They had come to New York a few years previously from Uzbekistan.  There were jewelers in their family going back generations and their grandfather was one; they decided to continue the tradition.
The brothers chose Astoria to live because it was livelier than parts of Brooklyn that they had seen, and for the European feeling on its streets.  "It was always a dynamic neighborhood, very colorful and multi-ethnic," says Ralph.  "It has kept the same way all these years, though now we see a lot more young professionals moving in too."
When the brothers came to New York during the cold war, communication with relatives and friends back in Uzbekistan was extremely difficult.  Ralph says that now communication is open.  "People can come here, we talk on email, Skype and so on," he says, although they do not return often because most of their close family have left.
Almaz Brothers specializes in engagement rings and bridal jewellery like wedding bands.  They also sell other jewelry items and watches.  Twice a year, Ralph and Yury attend an international jewelery show at Jacob Javits Convention Center in Manhattan, where jewelers from all over the world are represented: from Italy, Hong Kong, Israel, Turkey, Brazil…They buy most of their jewelry there and then tailor it for their customers in their store.  Yury adds that they also import diamonds from Israel, where his son is in the diamond-cutting business.
In the business of selling engagement rings, of course sometimes the proposal is rejected or the engagement breaks off.  "In that case, we offer to restyle the ring so that it does not look like an engagement ring," says Ralph.  "Or if not, we offer to buy it back, though the customer takes a loss of course."
Their business changes with the economy.  "Right now there's a new trend of people bringing back a lot of their gold," Ralph says.  "They want to take advantage of high gold prices and now everyone wants to sell their old jewelry, coins, and diamonds.  If it's an interesting item we try to sell it.  But in most cases we melt down everything and then sell it to refiners."
The brothers have clear-cut roles.  Ralph works on the shop floor where he deals with the customers and Yury focuses on customizing the jewelry in the back of the shop – when I took the photo for this interview he made sure that he had the small magnifying glass that he uses in his work around his neck so it would feature in the picture.  The most satisfying aspect of his work, he says, is creating something special.