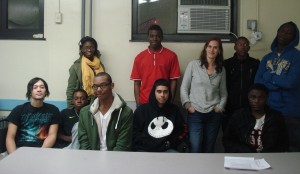 On Friday evenings a group of young people meets at the East River Development Alliance (ERDA) center in Astoria Houses, a housing development at the far Western end of 30th Ave that is home to just over 3000 residents.  They meet to work on their project "REELization Films."  They make short films inspired by elements of their lives and issues close to home: one of their recent films was about teacher layoffs.
I interviewed a group of REELization participants.  I spoke with Artie Sanchez who lives in Astoria Houses, his cousin John Acevedo who lives in Brooklyn, Dashawn Wilson who now lives in Ravenswood and previously lived in Astoria, Dashawn Johnson of Astoria Houses, Mathew Lisbon and Duvall Ledbetter.  Also participating were Efia Lewis, a student at Queens College who works as an intern with ERDA, and Sarah Montgomery, ERDA College Access Coordinator.
Artie is currently in his second year at La Guardia Community College.  He is studying human services and mental health and plans to go into psychology.  "Ever since I was young I've liked the way people behave," he says.  "I was always observant.  It interests me to see the way that people form the way that they do."
He says that when he moved to Astoria Houses from Brooklyn at around the age of six, within a year he had a big network of friends.  "Everyone gets to know each other," he says.  But he adds: "the bad thing about the neighborhood is that there are always problems here or there."  Towards the end of October, shootings at Astoria House escalated; in some incidents property was damaged and in two, people were hit by the bullets.
"There were shootings from Friday all the way to the next week," says Artie.  "Everyone here was walking around like it was normal.  But anyone who wasn't from here was like, you know, a little jittery.  The whole thing was two groups of people who all grew up with each other, who all know each other, who are friends.  But they just split up into two groups."
He describes how the police appeared only after the second or third day.  He says it felt a little safer with them there "because they were everywhere," but that they had waited too long to appear.  The police presence is minimal again now, with a van stationed outside the entrance to Astoria Houses.
Efia, who is studying urban studies and biology with a business  minor at Queens College, now lives in Long Island.  That makes her see the recent incidents at Astoria Houses through a new lens.  "Since I live in Long Island, I'm in an area that's completely quiet.   I grew up in Brooklyn, so it [violence] wasn't that much a surprise to me, but living in Long Island changed my perspective.  I can see it's possible not to live in an environment where you see it as the norm."
Not that moving to Long Island was without its challenges.  "There are a lot of very stereotypical points when it comes to ethnicity.  When we first got to Long Island we were the first African American family on my block.  Once they saw that more African Americans were coming into the environment, it was like the whole perspective on the neighborhood changed.  From 'this is a great town in Long Island' to 'oh, the schools are getting bad'…It's like the racial point of view changes the whole perspective on a town or an area that you live in.  I always opposed that.  I knew exactly why they were saying it was getting worse than before.  It's how society works."
Artie's cousin John is currently in school, working for a qualification in computers and computer repair.  He says that despite the recent shootings at Astoria Houses the community is quieter than where he lives in Brooklyn.  "I don't see a lot of violence here.  Where I live, I wouldn't expect it so much but I see it everyday.  I don't know why.  I guess people just don't have self control.  There's people just hanging around outside, trying to start a fight.  You don't see that here.  Everybody's cool with each other, everybody knows each other, and that's it."
Dashawn Wilson, who is currently finishing up high school and plans to study film in college, says that he has seen good changes in the neighborhood.  "When I was living here there wasn't any garden" [Two Coves Community Garden is just outside Astoria Houses].  "There weren't the murals" [the Welling Court Mural Project].  "From when I was living here to when I came back to start this program I've seen how everything has changed, the stores, everything."
On whether they want to stay in New York City in the future, the members of the group all have different feelings.
"I wouldn't like to stay in New York because I've lived here for so long," says John.  "The city's always alive.  But sometimes when I'm in the center of Manhattan I go crazy.  You don't know what to expect.  It's like everybody's in a rush, everybody's doing so many different things, you see so many lights, it's like, 'do I want to do this?'/ 'do I want to do that?', you see something happening over there, you pay attention then something's happening over here…you get confused sometimes.
"I would like to see how it feels to be in a different neighborhood.  A different state.  When people own a house and all they see is open space and roads, they would like to see the city.  I would like to switch it up.  Go out of state, see all the open road and land and stuff like that."
Dashawn Wilson feels differently.  His grandparents live in Raleigh, North Carolina.  "I visit them often.  And it's so boring out there!  It's very quiet, and there are no street lights, and when you're driving at night you can't see anything.  There's nothing to do.  I ask my grandfather, 'what can you do here?' And he just says, 'watch the grass grow!'  In the future I would like to live in Manhattan…probably in a penthouse."
Efia says: "I love New York.  It's so diversified.  I don't think any other state can top this.  In the city there's always something happening, the subway…"
Dashawn picks up her thread, "What I love is when you're in the subway, and everything is kind of dirty and broke down, but as soon as you walk upstairs and see the city, especially at night, you see all the lights and everything, it's like a big change.  It opens up your eyes."
******************************
Watch some of Reelization's short films on their You Tube channel