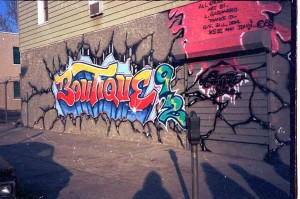 Louie "KR.ONE" Gasparro is an artist and former NYC subway train graffiti writer.  He was one of twelve children born in Manhattan to Italian immigrants, and was raised in Astoria: he lived in Astoria from 1966 to 1996.
"I started writing graffiti very young in 1977, I was 11 years old," says Louie.  "Ever since I can remember I was always drawing, sketching, finger painting and reading comic books.  So when I started to notice the cartoons and bubble lettering on trains I was immediately attracted to it."
He adds: "Sketching the outline to executing it and seeing the result fly by while you are sitting in your homeroom class is really unforgettable."  There were challenges too, of course.  "Going into a tunnel or train yard and doing a piece on a train that you liked and then walking out unscathed and not arrested were the biggest.  Painting in the dark was a challenge for sure – that's why I painted mostly in yards.  In the daylight."
Some of the cliques (subway writing groups) that Louie was a part of would meet up at the 30th Avenue subway station.  He met with writers from IRT (Invading Rapid Transit) and TSS (The Super Squad).  "There were guys with names like RCA (Reckless Car Artist), SN (Sick Nick), and KB (Krazy Boy) aka Savage 1.  RCA and KB were the founders and presidents of these two Astoria based cliques."
Subway graffiti was known as writing because, Louie says, "it was letter and name based.  So we were writing.  Writing for ourselves and each other.
"Subway era graffiti was totally competitive.  Every writer would try and 'burn' the other with style or with quantity."  But there was also camaraderie.  "Being a (graffiti) writer really transcended any and all social, economic, ethnic and racial boundaries.  The art was the common denominator."
Louie grew up always feeling safe in Astoria.  "Everywhere I'd go I always knew someone.  If I didn't, they'd usually know someone in my family.  It was a true neighborhood.  Astoria Park and all the school yards were the social network.  I still visit Astoria frequently because of the many great restaurants, and the Museum of the Moving Image, which I used to play in when it was an abandoned wreckage."
In the mid 1980s, Louie was the first Astoria-based artist to be commissioned by the community and private businesses to do murals.  "I'm really proud of those murals," he says.  And despite being a graffiti-writer on the trains he was a member of a community group called Graffiti Busters, helping identify what could be done for kids who were defacing property.
"I'd be sitting there with really long hair and a leather jacket explaining the psychological reasons why kids were writing their names on walls.  I got used to being stared at really quickly."
Louie is still an artist, and a musician: his band is called Servants Of The Crown -Keepers Of The Sign.  And he recently published a book, "Don 1, The King From Queens – The Life and Photos Of a NYC Transit Graffiti Master" about the influential graffiti writer from the 70s Joe "Don 1" Palattella (also from Astoria).  Louie says: "The book includes 200 never-seen-before photos of the old Astoria RR trains and the DON 1 tags and pieces (short for master-pieces) that adorned those trains."
On why New York City saw the birth of the global street graffiti movement, Louie says: "When 'Cornbread' – a graffiti writer from Philadelphia – was noticed and TAKI 183 and Julio 204 took it to the next level in NYC and the whole metamorphosis from the more simplistic 'single hits' of graffiti signatures went to 'bubble lettering' and more elaborate 'burners' and 'wild style' the entire vocabulary of graffiti art was laid out on the NYC subways and streets – it was the invention of a modern art form.
"The evolution and style metamorphosis that happened in NYC from 1970 – 1980 is responsible for the global phenomena of graffiti writing and graffiti art.  I always say that we needed to write and apparently so did the world."
Find out more:
New York Daily News on Louie KR.ONE Gasparro's book on DON1: "Influential graffiti artist DON1 unveiled in new book by one of his longtime admirers", Lisa L. Colangelo, New York Daily News, 5 Feb, 2014
And the archive of all the interviews on this website, "30th Ave – A Year in the Life of a Street"
More of Louie's work: