This year I'm profiling interviews from the 2011 project in this spot at the top of the homepage.  At the moment, the interview with Mustafa Eid and Sabah Guessar of TradeFair Supermarket.  The original is here.  For an archive of  all 52 interviews click here.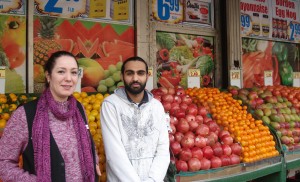 Sabah Guessar and Mustafa Eid outside Trade Fair supermarket on 30th Ave
Trade Fair supermarket stretches along 30th Ave between 31st and 32ndStreets.  It's a swath of color with its fruit and vegetables on display and bright announcements of special offers.  Among the bustle of customers and deliveries I spoke with its manager Mustafa Eid.  Sabah Guessar, also a manager there, joined in some of the conversation too, coming back and forth from her work.
"You can cross borders when you cross our aisles," says Mustafa.  "No matter where you're from you can always find what you want.  We probably have food from six or seven Middle Eastern countries.  From India, Pakistan, a good 12 countries from Latin America, from Europe, all around actually.  And I know where every single item is."
Trade Fair began in 1974 when the owner walked into a small grocery store at the current 30th Ave location, as a customer.  He learned it was for sale and decided to buy it.  Now there are 11 locations throughout Queens.    Trade Fair's website states, "Remember, we carry the foods of home. Wherever home may be."
The most challenging part of Mustafa's job is "making sure that every product that a customer asks for is on the shelf.  If someone requests something I look it up my book and try to find it and get it for them."  The 110-120  staff at the store speak many languages between them.  Trade Fair advertises positions in the local Spanish, Arabic and other newspapers as well as online to make sure the team reflects the diversity of the customers.
Mustafa was born in Syracuse but moved at six months old with his family to the house in Upper Ditmars where he still lives now, at 25.  His father worked at Trade Fair from when it first opened.  "After I left school he talked to the boss and said, 'listen, my son needs a job'.  I grew from the smallest position you can get, on the minimum wage.  Then I learned everything, and we're doing a fine job here.  Oh I had to work hard for it…I built myself all the way up until I got this position."
Prior to coming to the 30th Ave location he worked at the Trade Fair store in Ditmars.  "It's very similar to 30th Avenue but not as exciting actually.  Over here is more diverse, much more diverse."  He describes Ditmars as Astoria's "quieter version".
Mustafa's hours are open.  "I don't even have a schedule.  Whenever I get the chance to stay here I stay here, no matter how long it takes.  I can be here between nine to 16 hours."  The store is open 24 hours and remains busy through to 2am.
Sabah adds.  "It's busy at night, and safe.  Three o'clock in the morning I am here sometimes and it's like I'm feeling home, I'm not feeling afraid."
Mustafa says that he puts the safety of the area down to its diversity.  "Everybody knows the other person's culture now.  You respect everybody.  Everybody respects you, you go on with your life and that's it."
Sabah: "The only one thing we all feel is that we're all immigrants.  We try to be together.  Culture, religions, it doesn't make no difference.  Colors, countries, languages…"
Sabah's family is Moroccan and Mustafa's is Palestinian, but as Mustafa says, "in this area, you don't even ask where people are from any more."
Sabah and Mustafa say that they get to know all their customers.  "If a customer disappears for 2-3 days it's like 'what happened, we didn't see you for a while?" says Sabah.
Mustafa says he can only see himself staying Astoria.   As for his work: "hopefully I can get to be Vice-president of the company.  I can't be the President [because the President's the owner ].  But maybe I'd get Vice.  Hopefully!"